The street racer Brian Britt is renowned for his enormous passion for cars and racing. But, apart from his work, people also know him and his wife for being the most humble and down-to-earth. 
Brian Britt And His Wife Are Praise-worthy
Throughout his racing years, Britt has amassed many fan followers for his impressive racing ability. But, at the same time, Britt is also praised for the person he is in real life. 
The racer, who has soared to popularity since he appeared on the Street Outlaws, seems to have a lasting impression on people he meets.  
On his Facebook page that he created under the name Brian Britt "The Assassin," the review section is bombarded with wholehearted praises from people who got the chance to see him in person. 
Not only Britt but people also praised his wife, Christy, writing how kind the couple is. One user wrote 
"him and his wife are some of the most sweetest people you will ever meet"
Another added, 
"met him in Vegas, real stand up down to earth guy, when asked he offered all the advice and knowledge he had to us.. much appreciated."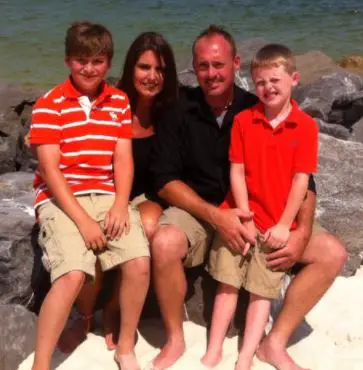 Brain Britt with his wife, Christy, and his two sons while they were kids (Source: Facebook)
Personal life of - Inside Life Below Zero Star Ricko DeWilde's Big Family
The couple has been married for several years now, and they share two sons.
One of his sons is Dylan Britt attended Cross Country Community School. 
Judging from Dylan's Facebook presence, he also seems to have enthusiasm for cars, just like his father.
What Does Brian Britt Do For A Living?
Although people know Britt as a racer now, that isn't how he started his career. Despite his passion for cars, he used to be a bank manager initially.
After several years of working in the bank, Britt retired to become a farmer and street racer. 
Ever since he entered racing, his life has taken a huge turn. Having raced in the show Street Outlaws for a few years, Britt has received significant recognition and appreciation for his racing skills and amazing personality.
More on - Who Is Josh Blue's Wife? Dating? A Look At His Family Life
Brain in The Street Outlaws
The Street Outlaws is a Discovery Channel premiered reality TV series, where street racers from different places come to showcase their racing skills and compete to secure the winning title. 
Britt entered the series after he met JJ Da Boss, the team leader of Street Outlaws Memphis, through his mutual friend Jeffrey James, a racer of MSO. 
Caption- Brain Britt talking in an interview about his cars and modification on Assassin
Ever since he met JJ, Britt has been in the show, racing in his 1967 Chevy Nova which he calls Assassin. 
While talking to Sketchy's Garage about the modifications he has done to his car, he said the car is now a twin-turbo set, and he converted the nitrous rig to a twin-turbo deal. 
The Street Outlaws viewers are surely in for a treat in the upcoming race with all his modifications to the Assassin.