American comedian Josh Blue had been divorced several years ago, but love found its way again when he met his girlfriend Mercy Gold in 2017. And, his Instagram posts are evident to their happy relationship.  
Josh Blue's Girlfriend
Analyzing the comedian's social handles, it seems as though Blue and Mercy began dating in 2017. 
The comedian made his relationship Instagram official on December 15, 2017, when he uploaded a monochrome picture with his girlfriend and captioned the photo as, 'Me and my lovely lady.' 
His 'lovely lady' has frequently appeared on Blue's socials on several occasions. Recently, the pair had an adventurous outing at Paul Bunyan Land, and Blue took to his 'gram to share their fun moments with his followers. Witnessing their social media appearances together, there is no denying the two are incredibly happy with each other.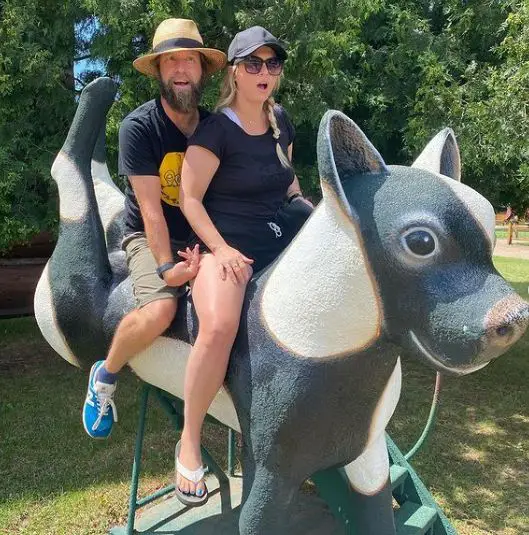 Josh Blue with his girlfriend, Mercy Gold, at the Paul Bunyan Land (Source- Blue's Instagram) 
You may want to know about - JP Sears and His Beautiful Family of Three | Peek Inside His Wedding Details
Josh Blue's First Marriage
Before his relationship with Mercy, the Last Comic Standing winner had been married to his ex-wife, Yuko Kubota, for almost six years. They had tied their knot in around 2008 and stayed married until 2014. 
Blue described that he instantly fell in love with Yuko. But it wasn't easy convincing her. As Yuko belonged to a Japanese family, Blue had to travel to Japan to meet her parents. 
The stand-up comedian, who has a condition called Cerebral Palsy, was concerned if Yuko had already mentioned to her parents about his health condition, and she replied saying, "No but I did tell them you were white."
Talking about his then-wife, the comedian further said, 
"The thing about Yuku is that she's so deadpan. She cracks me up all the time, a lot, because she just sees the world so differently. It's cool to get a different take on things sometimes." 
However, with time things seemed to have gone differently when the two ended their marriage in 2014. Although the reason for their divorce hasn't surfaced yet, Blue mentioned his divorce a few times on his social handle. 
For instance, in one of his Instagram posts of 2020, where he uploaded a picture with his current girlfriend, Blue responded to a comment regarding his divorce, saying that it happened for good.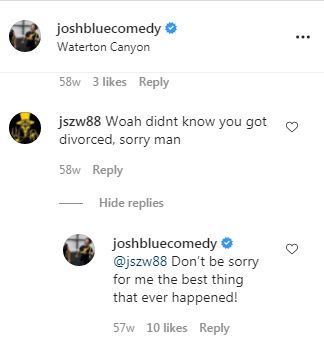 Josh Blue responding to a comment on Instagram regarding his divorce from his ex-wife, Yuko Kubota (Source: Instagram)
Besides the rough patch between the two that led to divorce, the couple shares a son and a daughter. 
Who are Josh Blue's Children?
Blue's welcomed his firstborn, Simon, in 2008 and a few years later made an addition to the family with his daughter, Seika. 
His social media uploads are evident enough to suggest Blue shares an impeccably close bond with his children. And he often talks about them proudly in interviews. 
In an interview, Blue shared what he thought when he knew he would be a father for the first time. He said, 
I always wanted to be a dad. When I was a kid I always pictured myself as the cool dad in the neighborhood that all the kids would be like can your dad come out and play? Now that I am here I am not that dad because I am feeling old. I just enjoy being with my children.
Blue's Instagram page is flooded with his kids' pictures and their fond memories. Besides being close with their father, the kids also share an incredible bond with Blue's girlfriend, as it appears on his 'gram uploads.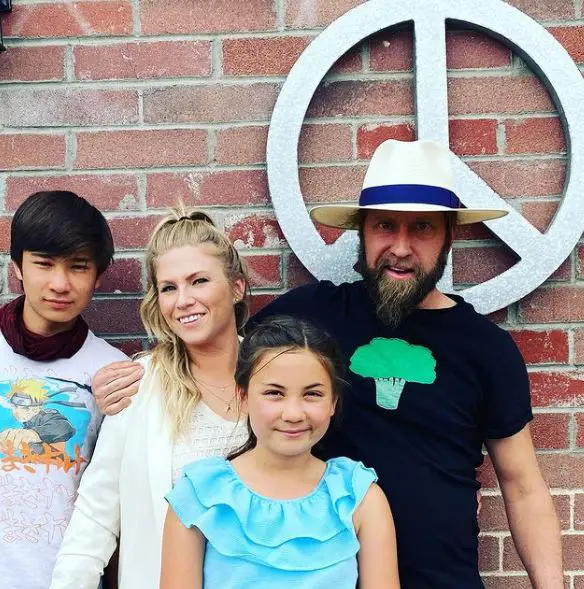 Josh Blue with his girlfriend, Mercy Gold, and his kids, Simon and Seika (Source: Instagram)
Currently, the comedian, entitled to a net worth of 1 million dollars, resides in his Denver home with his kids.
Family details of - Jim Wahlberg [Mark Wahlberg's Brother] Bio, Age, Siblings, Married Life