Jim Wahlberg is an American producer and writer. He is known for executive-producing movies like A Feeling from Within (2012), The Lookalike (2014), and producing a TV show, Wahlburgers (2014-2019) which features his own illustrious family.
Apart from his entertainment career, he is also the executive director of the Mark Wahlberg Youth Foundation, an organization helping to improve the quality of line for inner-city youth. He also works to support charities like the Local Boys and Girls Club of Dorchester, Massachusetts.
Jim Wahlberg's Bio: Age & Parents
Jim Wahlberg was born as James M. Wahlberg on 19th August 1965 in a poor working-class district, Dorchester, Massachusetts, USA.  
He is the fifth oldest of the nine children born to his mother, Alma Elaine (née Donnelly). His mother's ancestry is 11/16ths Irish, one-eighth French-Canadian, one-eighth English, and one-sixteenth Scottish. His mother was a nurse aide and a bank clerk. She also appeared in the A&E's reality series, Wahlburgers, from 2014 to 2019.   
Talented Writer: Langston Kerman Wiki, Bio, Age, Girlfriend, Dating, Married, Height 
When he was just infant, his mother got married for the third time to Donald Edward Wahlberg Sr., who is of half Swedish and half Irish descent. His step-father was a US Army veteran who had also served in the Korean War. 
However, when he was seventeen years old in 1982, his mother got divorced from his stepfather, Donald, and got married for the fourth time to Mark Conroy in 1984.
His stepfather, Donald, passed away on 14th February 2008.
Siblings
Jim Wahlberg has eight siblings: Arthur Wahlberg, Debbie Wahlberg, Michelle Wahlberg, Paul Wahlberg, Tracey Wahlberg, Robert Wahlberg, Donnie Wahlberg, and Mark Wahlberg. Robert, Donnie, and Mark are from his mother's third marriage to Donald Edward Wahlberg Sr. 
His sister, Debbie, passed away on 2nd September 2003 due to a heart attack, leaving behind a teenage son. 
His brother, Arthur, is an actor known for movies like Villanelle (20120, Milkweed (2013), In My Mind (2013), and Jonah Lives (2015). Another brother, Paul, is also in the entertainment industry and is known for TV shows like Anderson Live (2011), Rachael Ray (2011-2014), and Wahlburgers (2014-2019). 
Another Producer: Jordan Schlansky In Real Life? His Wife, Fiance, Net Worth, Facts To Know
His half-brother, Robert, is also an actor known for movies like Orphan (2001), On Broadway (2007), and The Equalizer (2014). Another half-brother, Donnie, is an actor and producer recognized for Band of Brothers (2001), The Kill Point (2007), Blue Bloods (2010-2020).  
Jim's youngest half-brother, Mark, is a globally renowned actor, producer, singer, and philanthropist. He is known for movies like The Fighter (2010), Lone Survivor (2013), and The Gambler (2014).  
Wife & Children
Jim Wahlberg is married to his wife, Benny. The couple is blessed with three children: the eldest one is a son named Jack Wahlberg, and the younger ones are fraternal twins, a boy named Jeffrey Wahlberg and a daughter named Kyra Wahlberg.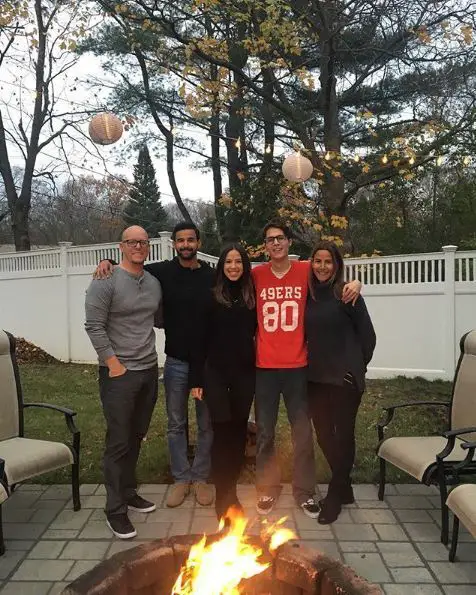 Jim Wahlberg (left) with his wife Benny (right) and children on 25th November 2016 (Source: Kyra Wahlberg's Instagram)
Jim's son, Jeffrey (aka Jeff), is an actor known for movies like Don't Come Back from the Moon (2017), Future World (2018), and TV Shows like Ballers (2015) and Counterpart (2018).