"Gay? They're your ally! Black? They'll put their own bodies on the line to give you space to speak! Muslim? They'll proudly defend your right to simply exist. Female? They're with you, sister!" wrote the KTTH host Jason Rantz on his My North West article. 
Jason's statement on his article raised many questions, some about his sexuality and some about him defending gay people from woke homophobics. 
Is Jason Rantz Gay? 
The KTTH770 AM host is about to be in his forties, and he has not been linked with anyone, which is one of the main reasons why his followers assume that he is gay. 
And to answer that question, Yes, you guessed it right; Jason is openly gay and a proud member of the LGBTQIA+ community. 
Supporting people of the community, Rantz has also spoken against the woke progressive homophobe activists who bash the members of LGBTQIA+ for not following their ideologically-driven policies. 
"I'm a gay, Jewish conservative who lives in Seattle. It ain't easy. The social media mob of progressive don't like me much,"
Says Seattle's conservative commentator while talking about his struggles of being a gay man in modern society. 
Jason encourages all the oppressed people to speak up whether they are black, gay, or jew because if they do not speak up, "bad policies are rammed through and dangerous politicians are elected."
Apart from his strong messages, Jason likes to crack jokes here and there as well. Between one of those angry-bashful tweets, he ironically says that his wife told him that he is gay.
You Might Be Interested In: Michael Savage Wife, Divorce, Children, Salary and Net Worth
Gay Jason Rantz Has A Wife?
According to several rumors surrounding Rantz, another one suggests him being a single dad and having gone through a nasty divorce with his ex-wife. Clarifying the rumor Jason once took to Twitter and addressed the rumor by mentioning, 

Jason Rantz's Tweet Addressing False Claims (Source: Twitter)
He clearly stated that he is gay, single, has no kids, and is not a lawyer, which single-handedly shut down all the rumors. But hold up, he is not always serious as he likes to throw some sarcasm here and there. 
On August 19, 2020, Jason replied to a tweet saying that he is gay, and his wife told him the same thing, which obviously is a joke as he already said that he is single. 

Jason Rantz Tweets About His Wife (Source: Twitter)
So, yes, aside from all jokes, Rantz has clearly stated that he is gay and never had a wife. 
Keep Learning: Fox News Laura Ingraham Married Status, Children, Net Worth 
Jason Rantz Early Life & Bio
Popular radio host Jason was born on the year of 1982. He just turned 39 years of age as of 2021, and he celebrates his birthday every year on March 4. He was born in the city of Brooklyn, New York.  
Jason's real name is Jason Antebi. Even though the details of his parents are not a piece of public knowledge, he was raised by them in Los Angeles/Northridge, California.
Talking about his education, he attended Pacific Hills High School from the year 1996 to 2000. Later, he enrolled in Occidental College and graduated with a BA in politics in the year 2004.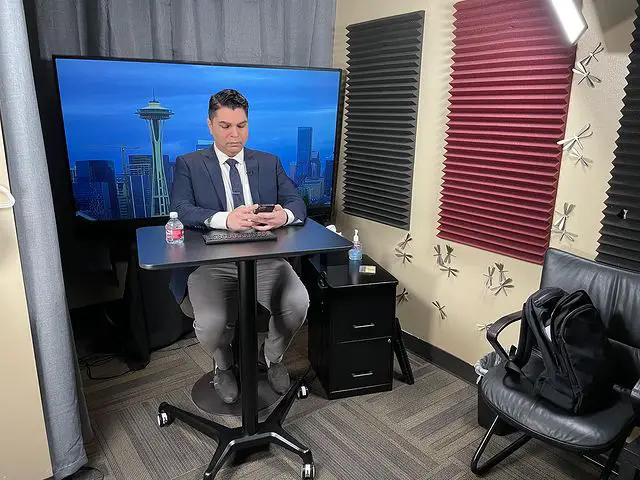 Jason Rantz Behind The Scene From FOX News Interview (Source: Instagram)
Jason kicked off his career by co-hosting a talk show for kids on the radio at age 15, on XTRA Sports in Los Angeles. Currently, he holds the afternoon drive slot for AM 770 KTTH after four years of hosting on KIRO FM in Seattle.
Aside from the radio, Jason has appeared multiple times in the FOX News and has been featured simultaneously in NBC Nightly News, Q13, KIRO, KING, KOMO television, and The Seattle Times. 
Currently, Jason serves as an afternoon drive time talks radio host based in Seattle on KTTH Radio from 3 pm-6 pm.