Laura Ingraham is an American conservative television host showing her affiliation to the FOX News. She joined the channel back in 2007 as a contributor and since October 2017 she has been serving as the host of The Ingraham Angle.
Previously she was known as the host of her podcast, The Laura Ingraham Show. The nationally syndicated radio show ran nearly for two decades.
Laura Ingraham's Age, Family
Laura Ingraham was born on 19th June 1963 in Glastonbury, Connecticut.
Look Into, Other Conservative Political Analyst: Andrea Tantaros Married, Husband or Boyfriend, Dating and Salary
Her father, James Frederick Ingraham III died in 2013, on his 88th birthday. He was a WWII veteran and resident of Glastonbury for 57 long years.
Laura's mother, Anne Caroline Kozak, who worked as a waitress in her 70s, passed away in 1999.
Together, they had four children, including Laura and three boys: James F. Ingraham IV, Brooks M. Ingraham, Curtis U. Ingraham.
Brother Calls Her "A Monster"
Laura's older brother, Curtis frequently used his now-deleted Twitter account to lash out on Laura over her "controversial" opinions and support for President Donald Trump.
Curtis, who is openly gay, started speaking out against his famous sibling since early 2018. All along, he has been attributing her views to their father. 
In an interview with the Daily Beast, Curtis vented how Laura got her insensitivity and inhumanity from their father.
In his words,
I think she's a monster. She's very smart, she's well-spoken, but her emotional heart is just kind of dead.

Our father was a Nazi sympathizer, racist, anti-Semite and homophobe. Like father like daughter.
There have been several instances in the past when he tweeted about Laura.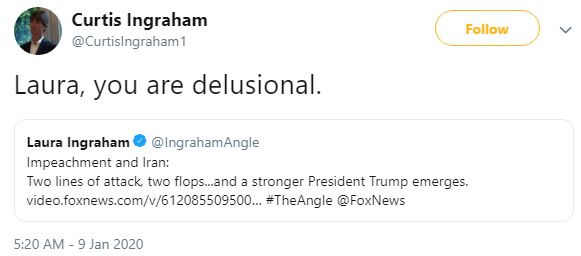 Laura Ingraham's older brother, Curtis Ingraham tweets his sister on 9 January 2020 (Photo: Curtis Ingraham's Twitter)
He continues to counter-attack her subject matter that Laura presents in her shows, on his recent Twitter account.
Laura Ingraham's Education
Laura Ingraham completed her high-schooling from Glastonbury High School in 1981.
She then graduated with a B.A. from Dartmouth College in 1985 and eventually a Juris Doctor degree in 1991 from the University of Virginia School of 
Married To Husband?
Laura Ingraham has never been married.
She dated some of the prominent personalities from her industry. The names, Keith Olbermann, Dinesh D'Souza, Robert Torricelli, and James V. Reyes, are listed as her former boyfriends.
More Of FOX News Personalities: Alicia Acuna Married, Husband, Divorce, Boyfriend, Net Worth, Bio
Laura even got engaged to the businessman James V. Reyes amidst April 2005, which only lasted for about a month.
Children
Laura Ingraham, a self-proclaimed mom, on her social media bio, has three children: a daughter named Maria, who is from Guatemala and two sons, Michael and Nikolai, all the way from Russia.
More Facts on Laura Ingraham
According to Celebrity Net Worth, Laura values a net worth of $70 million. More so, she is repoed to earn $ 15 million every year.

In March 2018, she received a boycott from the key advertisers of her self-titled show, such as Hulu, Johnson & Johnson, for mocking a Parkland shooting survivor.

In April 2019, one day after Nipsey Hussle's memorial, Laura mocked the deceased music mogul's 2016 song that includes the chorus "F---, Donald Trump." As a result, Nipsey's fellow rappers came to his defense over social media, demanding that the FOX News fire its host.