The cinematographer Collier Landry is widely recognized as the son of the infamous criminal, John Boyle.
Collier's life flipped upside down at a young age when his father, John, committed a crime that left him with an irreplaceable loss.  
Collier's Traumatic Childhood 
The distressing event in Collier's house when he was only at the age of 11 changed his life forever. 
It was past 3 in the morning when he heard a sudden scream of his mother, Noreen Boyle. The terrified 11-year-old was unaware that his mother had just been killed by his father, John Boyle.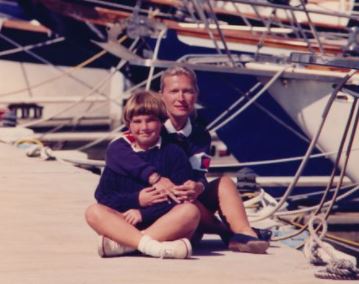 Collier Landry's picture with his mother, Noreen Boyle, when he was a kid (Source: Esquire) 
After two weeks from the incident, the police came to know John had buried his dead wife in the basement of his Pennsylvania home. 
Later, John was arrested for his crime and was sentenced for aggravated murder and abuse of a corpse.
Soon after John's arrest, Collier and his sister, Elizabeth, were adopted by different families. 
More on - Amir Tsarfati Relishes A Happy Life With His Family of Five
Where Is His Sister?
The true-crime-based documentary, A Murder in Mansfield, released in 2017, documents everything related to the infamous murder. 
The documentary, where Collier confronts his troubling past, also mentions his sister, Elizabeth, who was adopted from Taiwan by Collier's parents.
But besides the fact that Elizabeth had witnessed the murder while she was at the age of 3, nothing of her current information was revealed. 
Since Elizabeth was adopted by a family following the crime, the family kept her away from Collier, and the brother-sister never got to see each other. 
While talking to Mansfield News Journal, Collier mentioned that he wanted to reach her sister, who he has not met in 26 years. 
"I haven't seen her in 26 years. So I was hoping to be able to reach her, if only to see how she's doing. I hope she's OK..."
Reason Behind the Murder
Though John has never admitted to killing his wife, Collier considers his father a liar.
Over the years, John has come up with different stories regarding his innocence which put him on even more suspicious ground. 
Moreover, John was involved in several romantic relationships with different women while he was still married to his wife, Noreen. 
Collier shared a YouTube video on his channel title My True Crime Story: Collier Landry, where he confronted his father in prison after almost 30 years of his conviction. 
However, John still denied the crime and said that the murder was an accident. 
Caption- Collier Landry shares about his father's crime in a YouTube video
After hearing John's denial of his crime, Collier ended his visit with his father in disappointment and dissatisfaction. 
Is Collier Landry Married?
Although Collier, a Los Angeles-based cinematographer, has shed light upon every detail of his life-changing traumatic incident, he is yet to open up about his love life. 
Collier is not known to be married yet. However, his secretive love life has kept his followers wondering if he is gay or is involved in a secret relationship. 
On that note, he is rumored to have been dating Nicole Alexander, with whom he has once worked together for a short fashion film production.   
However, Collier has never come forward and talked about his rumored relationship to date.  
Personal life of - Jim Kwik's Journey From 'The Boy with Broken Brain' To World's Leading Memory Expert