The Bible teacher Amir Tsarfati has dedicated his life to making Isreal known to the world through his reliable updates and teachings under his self-founded non-profit organization, Behold Israel. 
As much as he is dedicated towards his country, Tsarfati is equally devoted towards his family and relishes years-long marriage with his wife. 
Amir Tsarfati's Wife And Children 
Although Tsarfati has not opened up about his relationship details, he and his wife, Miriam, seems to have been married for over a decade. 
Together, they share four kids, three sons, and a daughter. 
However, he is not very flashy about his family and mentions them on his socials during special occasions. 
Tsarfati took to his Facebook account to share a family picture on his son Ariel's graduation ceremony on February 2017.
Judging the picture in the post, his son, who is seen standing in a military uniform holding a gun on his hand, seems to be in the army.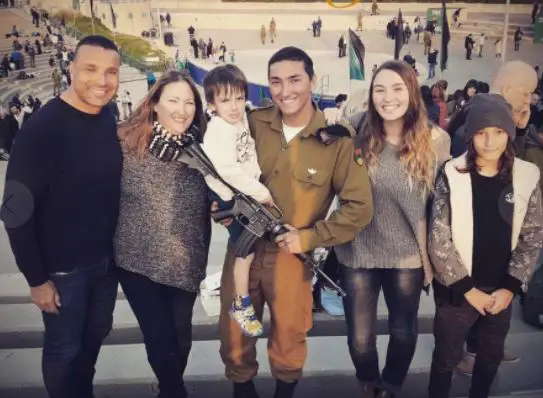 Amir Tsarfati with his children and wife, Miriam, on the occasion of his son Ariel's graduation ceremony (Source: Facebook)
Tsarfati's daughter, Maayan, age 21, is also in the army, as he mentioned on his Instagram post of 2019. Sharing a picture with his daughter on his 'gram, the proud father wrote, 
"Never mind my teary eyes. Sending my daughter off to the army!"
Moreover, his youngest son, Jhett, is 7 years old, while his son Elad is in his teens. 
Personal life of - Fatih Seferagic's Love For Quran Led Him To His Wife
Tsarfati's Career Details
The Behold Isreal founder's birthplace is Jerusalem, Israel. The Jewish family born grew up in Jerusalem. He has a deep attachment towards his country, which he shows through his service for Isreal.
In the earlier years, the 49-year-old served in the military as Jericho's deputy governor, where he was responsible for negotiation and coordination with the Palestinians. 
After his service in the military, he enrolled in Isreal's School of Tourism and worked as a licensed tour guide. He was later promoted to CEO of Sar EI Tours and Conferences. 
Following his calling, Tsarfati began preaching God's message within Evangelical Christianity and embarked on the path of fulfilling a greater purpose by making his country seen globally. 
Caption- Amir Tsafati talking about Behold Isreal Ministry (Source: YouTube)
More on - Who Is Hayes Robbins? Get To Know Danielle Panabaker's Husband
In that attempt, he founded the non-profit organization Behold Israel which mainly focuses on providing the world with updates and information on Isreal from the perspective of Bible history and prophecy. 
Delivering his message to a wider audience, Tsarfati has attained several churches and conferences. Besides, he also shares his message through various social media platforms and online teachings.  
What Is Amir Tsarfati's Net Worth?
As Behold Isreal is a non-profit organization, Tsarfati has no earning from the organization directly.
However, the organization makes some earning from its merch sell, which is available on its official website.
Besides, Tsarfati's books such as The day Approaching, Operation Joktan, Israel and the Church, etc., also add to his net worth.