While the UFC fighter Anthony "Lionheart" Smith has concurred the octagon through his brilliant fights, his wife, on the other hand, fights to save lives as a nurse. 
Who Is Anthony Smith's Wife?
Besides his resounding career, Smith has been blessed with a fulfilling personal life. The UFC Light Heavyweight fighter married his long-time girlfriend, Mikhala Smith Newman. 
Newman is a registered nurse and has been serving Craig HomeCare since December 2019.
Although Smith has kept most of his personal life details away from public reach, it's known that he was already engaged to Newman in early 2019 and tied the marital knot later that year.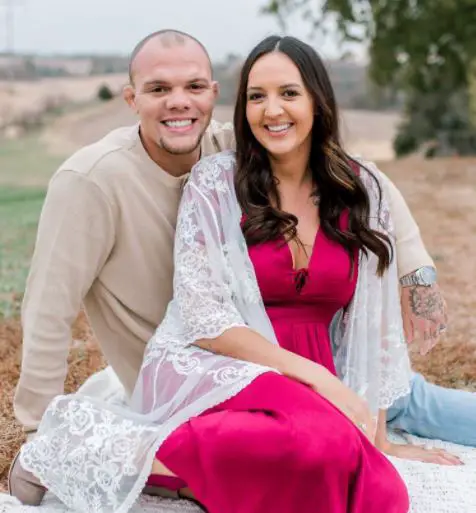 Anthony Smith with his wife, Mikhala Smith Newman (Source: Facebook)
Family life of - Channing Crowder Welcomes His Third Child | Learn All About His Wife and Children
Smith is one lucky man to have a supportive wife. Talking to KMTV, Smith's wife expressed her support by saying, 
"It's been a wild ride that's what I keep telling people. He started from the bottom, so it's cool to be able to see him at the top. I'm happy for him, I'm happy for our family, he's worked so hard, and he's given up so much to be able to do this." 
'I'll kill for my daughters'
Smith and his wife have been blessed with three wonderful daughters, Ariah, Avaya, and Adley, born in 2011, 2014, and 2017. 
The proud father sometimes takes to his social handle to post about his daughters. Expressing what they mean to him, he once wrote a touching caption on his 'gram that read as, 
"I'll kill for my daughters. This is my motivation. I'll step on the throat if anybody who gets in my way. I'll change the map of anyone's destination so that I reach mine."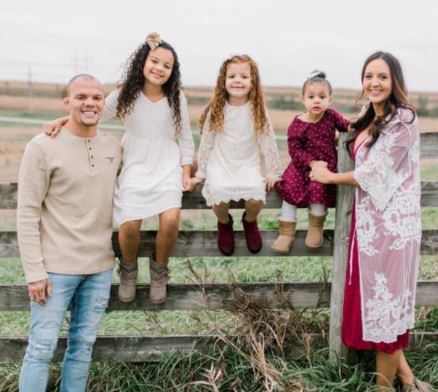 Anthony Smith with his wife, Mikhala Smith Newman, and daughters, Ariah, Avaya, and Adley (Source: Facebook)
Well, those heavy words are enough to explain how much he prioritizes his family. Smith is known to be a motivated fighter in the ring, but since he had his kids, they have become his major source of motivation. 
Smith's UFC Career
Smith began as a professional fighter in 2008. Initially, the 6-feet-4-inches tall Smith fought mostly for local promotions. 
Later, after setting an impressive record, winning against some of the veteran fighters, Logan Clark and Eric Schambari, Smith signed with Strikeforce.
Making his debut with Strikeforce in 2011, his first fight was against Ben Lagman, which he won via knockout.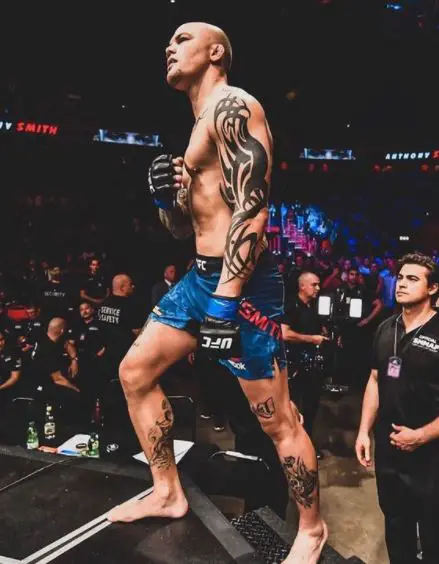 Anthony Smith stepping into the octagon for a UFC fight (Source: Instagram)
A couple of years later, Smith made his UFC debut. But, after he lost his first fight in the octagon, he was released from the UFC. 
Having fought for Bellator MMA for almost two years, he returned to UFC in 2016 and fought under the Light Heavyweight division. 
Throughout his career, out of fifty-one fights, Smith has had thirty-five wins so far, which places him at 6th rank in his division. 
Besides his career in UFC, Smith is also an analyst at ESPN and a co-host of MMA Tonight. 
More on - What Is Ryan Briscoe Doing Now? Facts About Nicole Briscoe's Husband
What Is His Net Worth?
As per an analysis by Sportsdaily, Smith's total earing throughout his fighting career has summed up to 2.2 million dollars. 
Apart from fights, he also makes a subsequent earning as an analyst and co-host that might total over 80 thousand dollars annually. 
Moreover, brand endorsements and his own merch might also add to his impressive net worth.