Ryan Briscoe is an Australian-American racing driver from Sydney, who has predominantly raced open-wheel and sports cars, all across Europe and America.
He started his career in karting in 1993. The same year, he won several Australian, North American, and Italian Championship. Eventually, he signed with many platforms: Formula Renault in 2000, followed by Toyota Formula One, IndyCar, Limited campaigns, ALMS, and Ford GT.
What Is Ryan Briscoe Doing Now?
Ryan Briscoe is, now, switched to the Prototype class for the 2020's IMSA WeatherTech Championship. He has partnered with Renger van der Zande, as a full-time driver at Wayne Taylor Racing, a sports car racing team that competes in the IMSA SportsCar tournament.
Life With Nicole Briscoe
Ryan Briscoe has been married to Nicole Briscoe since 20th December 2009.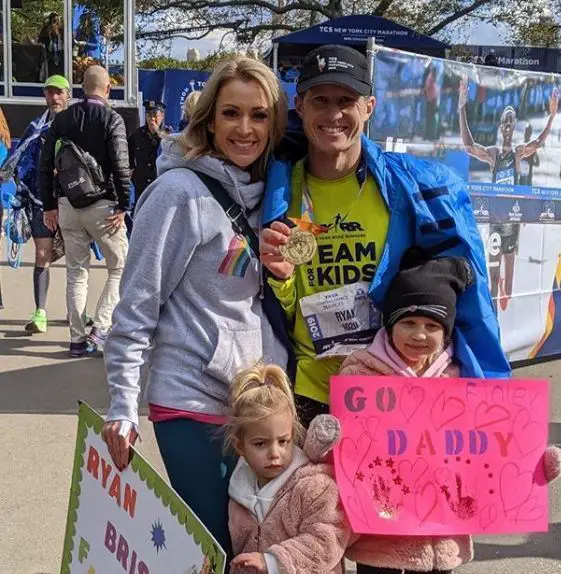 Ryan Briscoe, his wife, Nicole Briscoe, and their two daughters during one of Ryan's races on 3 November 2019 (Photo: Ryan Briscoe's Instagram)
From the marriage, they have two daughters: eldest, Finely Briscoe (born 6th December 2013), and the youngest one, Blake James Briscoe (born 2nd July 2016).
About Wife, Nicole Briscoe
Professionally, his spouse, Nicole Briscoe, a native of Roscoe, Illinois, is an American sportscaster currently employed at ESPN. At the network, she is focused on covering auto racing news.
She graduated from Hononegah High School and attended Northern Illinois University, earning her first job at NBC owned WREX-TV. She then worked for several other media outlets, including Speed Channel, WANE-TV, WISH-TV, and Indianapolis Motor Speedway.
Look Into An Inspiring Story Of Other Race Car Driver: Angelle Sampey Husband, Children, Net Worth
Likewise, she has been part of many beauty pageants. She won the Miss Illinois Teen USA 1998 and became a semi-finalist in the Miss Teen USA pageant in Shreveport, Louisiana, the same year. Two years later, in 2001, she competed in the Miss Illinois USA pageant and became the first runner-up.
More Facts On Ryan Briscoe, Net Worth
On their tenth wedding anniversary, Ryan's wife, Nicole wrote on her Instagram: "10 years later? And I wouldn't change a thing. Ok....maybe my dress and my hair, but not you @ryan_briscoe. Love you!"

Ryan's wife and race car driver Danica Patrick were both cheerleaders during high school.

Ryan Briscoe was born on the 24th of September 1981.

In addition to the native language, English, Ryan speaks Italian and French, as well.

His eleven years career, as of 2015, was reported to have earned him an estimated $9 million.
On 1st September 2014, as the couple spoke to USA Today, they had sold their home on Lake Norman near Charlotte, North Carolina and were waiting for the completion of construction on a new home in Farmington, Connecticut.