Spanish dancer, Tamara Rojo is acclaimed for her "artistic vision and risk-taking." She is serving as the artistic director and lead principal dancer of English National Ballet. She stepped into the position since April 2012.
A Ph.D. alumnus from Madrid University, she was previously a principal ballerina at The Royal Ballet in Covent Garden, London.
Tamara Rojo's Bio (Age)
Tamara Rojo, the only child to her Spanish parents, was born on 17th May 1974 in Montreal, Canada. She spent the first four months of her life in Canada before relocating to Madrid, Spain. Growing up, her family lived in subsidized housing. 
Tamara holds a master's degree in Theatrical Arts and a Bachelor of Dance Graduate with Honours, all from the Universidad Rey Juan Carlos de Madrid.
More Of Star Dancers: Dancer Kylie Shea Wiki, Age, Height, Boyfriend
Currently, she is based in her home in Bloomsbury, London, and her family (parents) still live in Spain.
Early Life
Tamara has been a dancer since she was five. She began her ballet training in Madrid at the Victor Ullate School and Madrid Royal Conservatory of Dance. Later, she went on to make her professional debut with Ballet de la Comunidad de Madrid.
When she first came to London, she had no experience, no special qualifications, and didn't speak the language. She worked for a very low-paid job, with the Scottish National Ballet.
Dating Status
Speaking to the Evening Standard on 27th February 2018, Tamara Rojo detailed her relationship with her Mexican boyfriend, Isaac Hernández, a senior dancer at the English National Ballet.
Isaac was named the arts and tourism ambassador for Mexico. Also, he became one of the youngest people to receive the Outstanding Artist Award from Mexican President Enrique Pena Nieto.
Look Into The Life Of Other Prima Ballerina: Stella Abrera Bio Uncovers Age, Birthday, Height & Husband Details
As of the interview date, Tamara and Isaac had been together for a year and a half. Also, they never kept their involvement a secret, hoping there was no animosity towards what they felt for one another.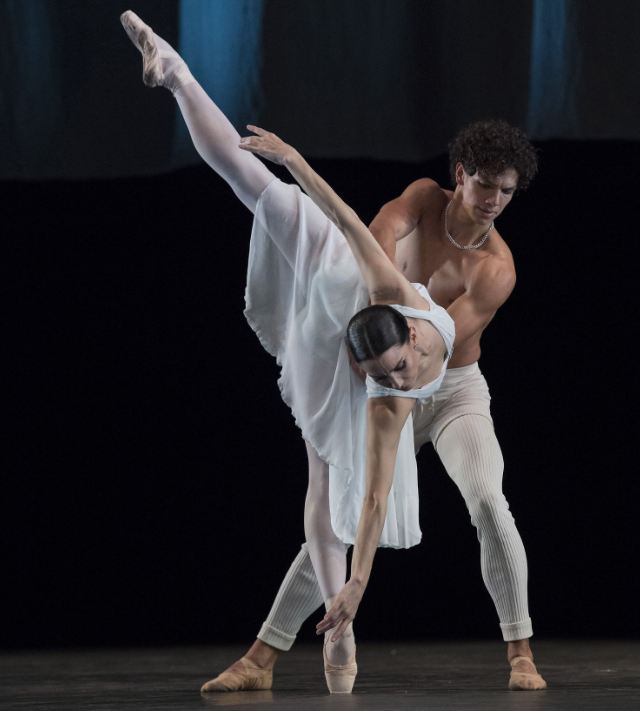 Tamara Rojo and her boyfriend, Isaac Hernández, on stage together in Adagio Hammerklavier, at Sadler's Wells Theatre in London in 2017 (Photo: standard.co.uk)
Isaac, being 16 years her junior ruffled criticism of all sorts, to which Tamara addressed:
I'm a very private person, so I did find it quite difficult. I wondered if it would be the same if it was an older man with a younger woman. But I'm very fortunate to have found somebody I want to spend my life with and who shares my passion. I'm happy – but I feel that is also something that bothers people!
Further, she added that the age gap does not seem to be there in between them, and she would "highly recommend it" to other women as well.
Earlier, Tamara held a relationship with fellow dancer Alan Jones.
Quick Facts On Tamara Rojo
She stands at the height of 5 feet and 5 inches (1.65 meters).

She is known for her work in The IMAX Nutcracker, Akram Khan's Giselle, and Romeo and Juliet.

Her birth sign is Taurus.

The New York Times referred to her as "the greatest dance actress of her generation."