Today, social media is the most influential and effective medium when it comes to raising awareness and sending out some powerful messages that are capable of bringing out an ultimate change. 
Ballerina Kylie Shea created Pointe Chronicles, a short video series on her Instagram, promoting self-love and self-acceptance, which subsequently went viral. Her social media flooded with followers sending her love and support. 
Kylie, who is a role model for many young girls aspiring to be a prima ballerina, started practicing classical ballet at the tender age of 8. 
Kylie Shea's Journey As A Dancer
Kylie studied both tap and ballet. When she had to choose between the two, her 9-year old self knew right away that she was born to be a ballerina. Kylie then joined Dance Peninsula Ballet, where she trained with her teacher, "Mrs. Stander" who played a significant role in her life.
At the studio, Kylie not only learned ballet moves, positions, and styles but also learned to carry herself into every area of her life gallantly and with a deeper appreciation.
When her beloved teacher passed away, she tattooed the quote, 'Save your tears for the stage' on her feet in memory of her mentor.
Look Into The Life Of: Crystianna Summers Age, Dad, Mom, Dancing Dolls, Net Worth, Boyfriend
Mrs. Stander would wipe her tears and say, "Don't cry my darling. Save your tears for the stage," which so far has been a driving mantra in her life.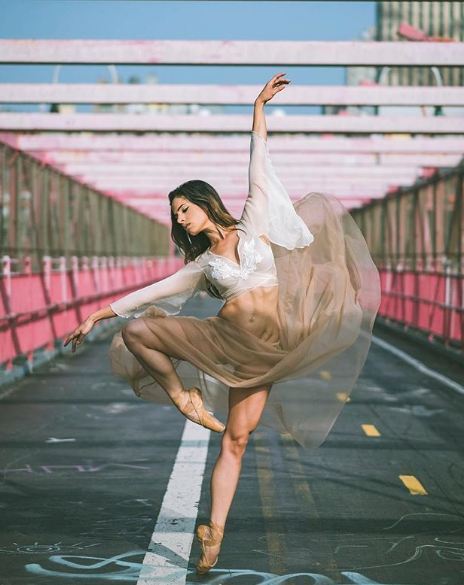 Ballerina Kylie Shea shares the throwback picture on her Instagram- of the time working with the NewYork based photographer, Omar Z. Robles at NewYork, on 17 April 2019 (Photo: Kylie Shea's Instagram)
As a part of her professional dancing career, Kylie served as the principal artist of Seattle's Spectrum Dance Theater and made her Broadway debut in 2017.
Today, the talented dancer is amidst creating incredible assets. The accurate digits to her net worth are not known so far.
Kylie Shea's Wiki, Nationality
Kylie was born on 6 May 1986 in Los Angeles County, California as Kylie Shea Lewallen. She holds American nationality. 
The young Kylie practiced her dancing passion even in the high school Girls Choreo team, which she led as a captain. 
To begin with, her parents were not thrilled with her idea of not taking the SAT's or applying to any colleges. But eventually, they supported her in every step of the way. 
Kylie grew up in a family of five siblings. When her only brother, Scott Lewallen- aspiring cofounder, designer, producer and artist, decided to come open about his being gay to his parents, it took some time for her parents, especially her father to process the idea.
Nevertheless, as a family, they chose to stay together through every thick and thin. 
Her Dating life
Kylie's life story is exciting and inspiring enough without the mention of her boyfriend and dating life. Never in her interviews or social media posts has she been vocal about being married or having a husband.
You May Like: Asia Monet Ray Wiki, Height, Parents, Sister, Net Worth, Career, 2017
Now, age 33, the dancing star, seemingly single, is more focused on making a name for herself in the industry in the current phase of her life. Therefore, it's too soon to make any baseless comments in regards to her personal life.
Although, with her outlandish looks and magical dancing moves, she is a heartthrob among her massive followers.
Coming from the glamor world, she is forever obliged to maintain a particular aesthetic. However, she doesn't let the pressure take the toll on her.
Over the years, she has learned to love herself, even her flaws. Despite being a celebrity, like everyone, she is in a constant battle to maintain a healthy balance between her mind and body.
Kylie stands at an average height of 5 feet and 6 inches (1.67 meters), while her weight fluctuates from 108 lbs to 135 lbs.