Stella Abrera is an American-Filipina ballerina who came into the limelight through her excellent ballet dancing. She started her professional ballet dancing career in 1996 after joining the American Ballet Theatre (ABT), one of the leading classical ballet companies in the USA.
At first, she became a member of the Corps de Ballet in May 1996 and later got promoted as a Soloist in August 2001. Later, in August 2015, she was appointed as a principal dancer at the American Ballet Theatre and became the first Filipina ballerina to do so.
She has won a gold medal after competing in the 1995's Royal Academy of Dance's Adeline Genée Awards, which was held in London.
Bio: Age Plus Birthday
Stella Abrera was born on the 8th of June 1978 in Manila, the Philippines.
She started her studies at Le Studio in Pasadena, where she used to take classes from Philip and Charles Fuller and Cynthia Young. After that, she took classes at West Coast Ballet Theatre in San Diego from Lorna Diamond and Patricia Hoffman.
Also A Ballet Dancer: Tiler Peck Bio Uncovers Age, Married, Dating, Height & Family Details
Likewise, she has also taken training at the Halliday Dance Centre, Sydney from Joan and Monica Halliday, to learn the syllabus of the Royal Academy of Dance.
She stands at a height of 5 feet 6. inches (1.68 meters).
Her Family Life
Stella Abrera was raised by Jack and Aurora Abrera. She is the youngest child of her parents and has four siblings altogether—one of her siblings is her 17 years older sister, Luz.
Her father is a civil engineer who had to travel to several places due to his works. And, along with his father, her family also used to travel. While she was the age of 4, her family moved to South Pasadena, California, from her native land, the Philippines.
After three years, they again moved to another country, Australia, and finally settled down back in the US.
Stella Abrera's Married Life, Husband
Stella Abrera is married to a fellow Santa Cruz native dancer plus actor, Sascha Radetsky. The couple shared the wedding vows on 22 July 2006 after nine years of relationship.
They first met each other in 1996 at the American Ballet Theatre—Sascha was already a member of the theatre whereas Stella was giving an audition. After Sascha's eyes went down and saw Stella, he fell in love with her; however, it wasn't easy for him to flirt with her.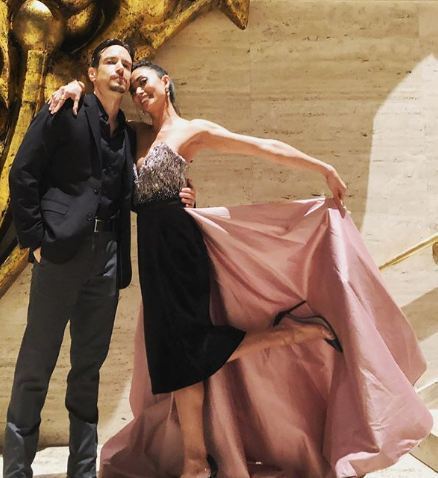 Stella Abrera with her husband, Sascha Radetsky at David H. Koch Theater on 17 October 2019 (Photo: Stella Abrera's Instagram)
At an interview with dancemagazine.com, Sascha stated that he tried to flirt with Stella, but it took him a couple of years to do so. Nevertheless, he never lost his hope and eventually succeed to win her heart. Since then, the duo has always been together.
Furthermore, they have also performed a lot of ballet dance together for the American Ballet Theatre.
Life As A Ballerina
Stella Abrera's ballerina journey began after her older sister; Luz signed her up for ballet classes. After that, she joined different ballet classes at various places, due to her father's profession. 
Later, she developed a feeling for ballet, and as time passed, the feeling changed into a passion. In 1996, she joined the American Ballet Theatre and started to live her dream.
Talents From America: Openly Lesbian Coach Katie Sowers' Personal Life, Family Details
She soon became a professional as well as a skilled ballerina. Following that, her performances started being sponsored by Mary Jo and Ted Shen. In January 2004, she was even featured in the cover of Dance Magazine as "25 to Watch."
She has played in numerous plays for the American Ballet Theatre which includes Apollo, Don Quixote, Dim Lustre, The Bright Stream, Frederick Ashton's Cinderella, Daphnis and Chloe, and The Dream.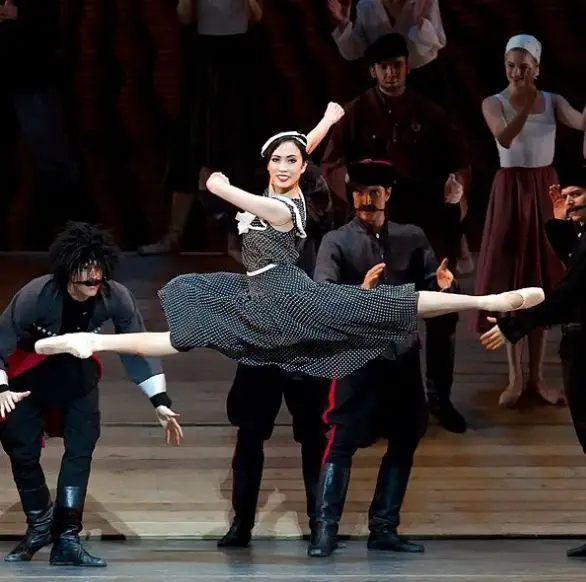 Stella Abrera performing at a play on 27 July 2019 (Photo: Stella Abrera's Instagram)
But, as she reached the age of 30, she suffered an injury in her back and sciatic nerve due to which she could hardly walk. However, she successfully recovered from the injury and made her return to the stage.
However, on 21st October 2019, Stella, through an Instagram account, revealed that she will be taking retirement from the American Ballet Theatre on 13th June 2020, after serving more than 24 years for the theatre company.