Sometimes, one's name and fame immensely propel with the relationship they carry with their successful better-half. Same is the case for Stacy Greenberg, who shares romantic bliss with the talented New York-born journalist.
It's not like Stacy only lives in the shadow of her famous husband—she also holds her own identity working in marketing. Stacy has served in the travel and marketing industries for over 15 years. Besides, she also runs an informative travel blog called Gate1A.com; however, she hasn't posted anything there since 2011.
Previously, Stacy worked at Starwood Hotels and Resorts Worldwide as the Director of Marketing for the St. Regis and Sheraton brands. Besides, she worked as a manager of Marketing for Hyatt Hotels. 
Stacy Greenberg's Bio, Family Details
The beautiful Stacy Greenberg celebrates her birthday on 11th March every year with her family and friends. However, her actual date of birth remains secret, which also keeps her age unknown. 
Moreover, she was born as Stacy Steponate in Chicago, the United States. 
Discover: Ashley Webster, Married & Has Wife? Age, Wedding, Family, Children & Salary
Stacy, who prefers to keep her parents and family members in the shades away from the public's eye, was caught flaunting a good time with her twin sister via an Instagram post on 7 July 2018.
Stacy Married Exceptional Journalist, Mike Greenberg
After initially meeting in Chicago, Stacy Steponate was some years away from adding 'Greenberg' surname to her name. Blissfully, the day finally came on 6 September 1997 when Stacy shared the wedding vows with her sportscaster/TV show host husband, Mike Greenberg.
After Mike, age 52, graduated in 1989, he destined his career as the sports anchor on the radio in Chicago. Subsequently, he met his future wife, Stacy, who toiled hard to earn for her living. With regular hangouts and chats, the couple became irresistible to one another and decided to take their friendship into the soothing vows of marriage.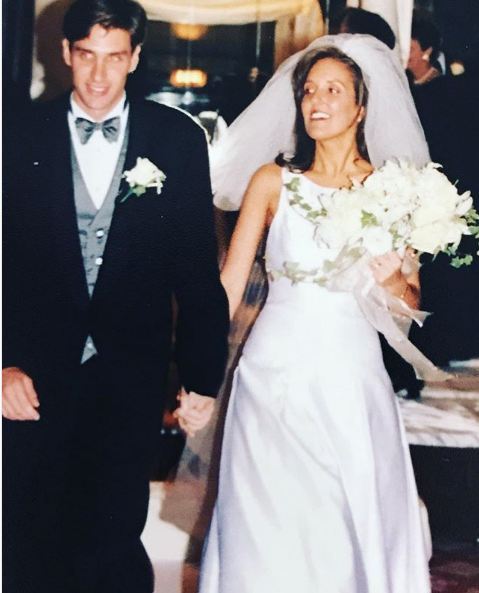 Stacy Greenberg ties the wedding knot with boyfriend Mike Greenberg 6 September 1997 (Photo: Mike Greenberg's Instagram)
With the unceasing love for one another, Stacy and Mike never miss an opportunity to flaunt their togetherness via the social media platform.
The two are often captured together spending holidays and relax holding each other's hands. One such instance, the couple celebrated their 22nd marriage anniversary posting a candid photo on 7th September 2019 through Instagram.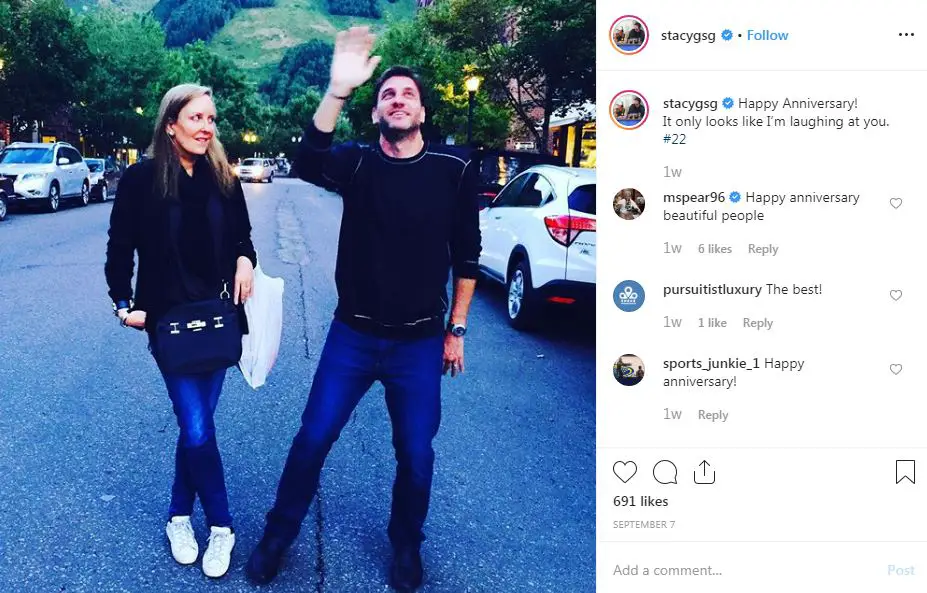 Stacy Greenberg shares a picture with husband, Mike, in the occasion of their 22nd marriage anniversary on 7th September 2019 (Photo: Stacy's Instagram) 
Well, such a great equation makes the pair's fans go 'aww' and they can only wish the pair to live together life-after-life.
Stacy's Family Includes Two Kids!
The Greenberg pair not only caresses each other, but they also share a soothing joy with their wonderful kids, a daughter, Nicole Greenberg and a son, Stephen Greenberg.
Stacy often stacks her social media accounts with the pictures of her sweet family. From outings to proms, she never misses an opportunity to flash the love for her children on social media.
One such instance was on 18 June 2018 when Stacy posted a family photo on her Instagram account. Through her caption, she wished happy Father's Day.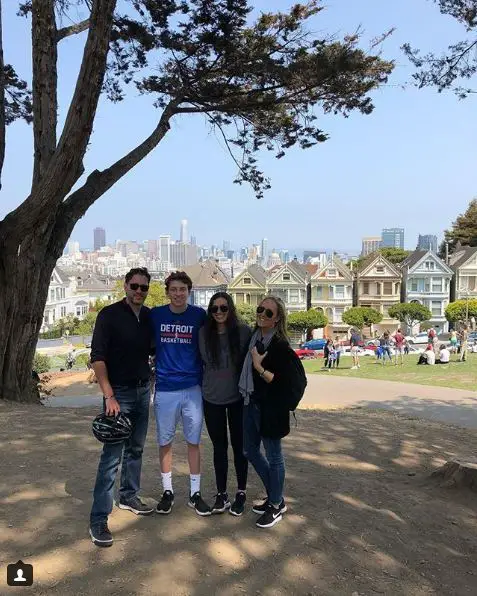 Stacy Greenberg enjoys the outing with family at Alamo Square Park on 19 August 2018 (Photo: Stacy Greenberg's Instagram)
Besides, the family was caught walking around Alamo Square Park in San Francisco as seen on Stacy's 19 August 2018 Insta post. Glancing at the family's bond on social media, it is clear that Stacy is more than blessed from her relationship with Mike.
Related: Eugene Robinson Married, Wife, Divorce, Kids, Net Worth, Bio
Furthermore, Stacy who is an active social media person, updated for the admirers and followers of hers that her son, Stephen, reached the age of 16 on December 2018. Similarly, her daughter, Nicole aka Nikki, graduated her high school in 6th June 2019.
What Is Stacy Greenberg's Net Worth?
Formerly active as a marketing manager, Stacy Greenberg is currently contributing to Pursuitist as a column writer. For that, she certainly bags a substantial income.
Though her part of earning is still to span out on media, it is a known fact that her TV/radio host husband bags a lucrative income. Mike Greenberg's actual net worth swirls around $14 Million; all credits to his media salary of $5 Million.