Shep Rose is a cast member in the American reality television series, Southern Charm, that debuted on 3 March 2014 on Bravo network.
Shep, with his wealthy family lineage, comes from one of the most elite families in South California. She has a circle of socialite buddies in the area, and together, they have been charming the audiences since the first season.
Moreover, following his craze in the Southern Charm which had its sixth season premiered on 15 May 2019; the Bravo went on starring him in yet another venture named, RelationShep, which premiered on 4 December 2017.
Shep has so much going on for him besides his good looks, family money, and luxurious lifestyles. He is an active participant in several different businesses, from restaurants to real estate, and clothing line.
Shep Rose Net Worth, His Restaurant
Shep is related to the famous 'Boykin' family through his paternal grandmother. The family has both a town and a dog named after it.
Also look Into: Meet Zach Roerig Daughter, Who Is His Wife? Age, Dating
Let's not forget to mention Shep's connection to his great aunt, Edith Cummings, who he says was the inspiration behind the character 'Jordan Baker' in The Great Gatsby.
Despite growing accustomed to an elite lifestyle and the luxuries in life, Shep still aspires to have his independence, mostly by paying his bills.
Shep is reported to have an estimated net worth of $ 4 million in his name. However, it is not clear if his family money is also included in the figure.
Even if his family money is not counted in his net worth, Shep has undoubtedly earned a considerable fortune from his appearances in Southern Charm.
In fact, Shep even went through a financial crisis around 2008. Not ready to give up any soon, he opened a restaurant in Charlestown and called it the Palace Hotel.
While the restaurant is nothing like its name, it is designed as a dive bar that sells gourmet hotdogs; now, the restaurant is a popular destination in Charlestown.
Talking about his family money, Shep's paternal grandfather, who worked in the steel business, made an abundant riches. 
His Age & Family Background
Shep, age 38, was born as William Shepherd Rose III to his mother, Frances, and father, William. Shep celebrates his birthday on 27 September.
More From TV Celebrity: Paulie Calafiore Girlfriend, Affairs, Net Worth
While the reality star grew up in a family of lawyers, his father, his sister, Katherine and his brother, Whitaker, all of whom practice law, never enforced him to chose a similar career.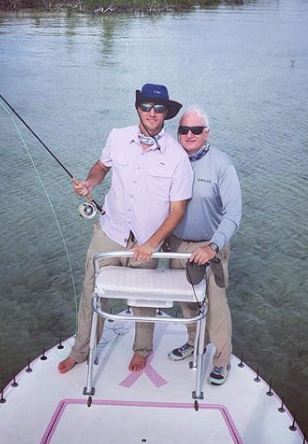 Shep Rose and his father, William enjoy their father-son moments at Black Fly Lodge on 26 November 2018 (Photo: Shep Rose's Instagram)
Initially, his parents, especially his mother, refused to be filmed for anything show-related. Be that as it may, Shep eventually persuaded them to take part in the show a little bit.
Before his television career, the MBA graduate attended two colleges, Vanderbilt University and the University of Georgia. 
He once had an awful experience during his high school days, when his teeth got knocked out while playing backyard football. He might have gone through some tough times coping with the accident.
Shep Rose Dating Girlfriend?
With his athlete built and fitnesses-strived personality, Shep is used to his girl-fans swooning over him. He looks dapper in his 6 feet 4 inches (1.95 meters) height.
Having experienced his share of romance with previous girlfriends, Shep made it clear that he was ready to settle down and was apparently looking for a real relationship on his show with Bravo.
Peek Into The Life Of: Judith Kent Bio, Age, Net Worth, Husband
Until January 2018, he was in an open relationship with Bella Clark in his reality dating show, RelationShep. However, the romance was short-lived, and they ended it amicably, sighting the reason for their split to be their "too independently busy life schedules."
As for now, Shep's dating status remains unconfirmed. However, his history with the Southern Charm co-star, Kathryn Dennis, in season 1 is yet again creating some buzz.
Kathryn, who was in a romantic relationship with Thomas Ravenel in the show, now shares two children, Kensie and Saint with him.
Nevertheless, Kathryn even had confirmed having been in a physical relationship with Shep. However, the confession did not go anywhere. Both of them are yet to unwrap the real deal behind the scenes personally.