Olia Hercules is a London-based Ukrainian chef, food author, and food stylist, who trained at the famous Leiths School of Food and Wine before working as a chef de partie in restaurants like Ottolenghi.
It was onwards the financial crisis of 2008 that she decided to quit her job as a film business reporter in order to pursue her dream to cook for a living.
Olia Hercules's Age
Olia Hercules was born on the 5th of July 1984 in the south of Ukraine.
Growing up she has been traveled to different places. With her family, she relocated from her home town of Kakhovka to Cyprus at the age of twelve. After completing school in there, she moved to the United Kingdom.
More From Star Chefs: Christine Cushing Bio, Age, Married, Husband
Then, after spending a year in Italy, Olia settled in London once. There, she pursued her career in Journalism after completion of her Master's degree.
Married Life, Husband
Olia Hercules has been married to Joe Woodhouse since 17th December 2017. Joe is a trained chef and photographer, who after spending years of cooking decided to pursue a career in photography. Lately, he works as a "Food plus Travel" photographer and is accessible for work worldwide. 
Together, Olia and Joe have a son, Wilfred Stepan Woodhouse, who was born on 6th January 2020. Olia also has a son named Sasha (born on 25th April 2012) from her previous marriage.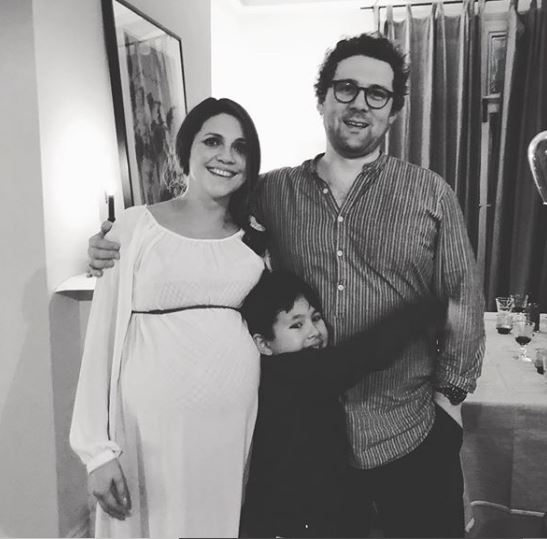 Olia Hercules, pregnant with her second child, Wilfred Stepan Woodhouse, poses with her son, Sasha, and husband, Joe Woodhouse at Forest Gate on 1 January 2020 (Photo: Olia Hercules's Instagram)
Last covered by The Telegraph on 12th August 2018, the family had put their Roman Road home on the market and with an expanding family in mind, they were buying a bigger house nearby Forest Gate.
Cookbooks Details
As a storyteller-food writer, Olia Hercules has explained more than 100 recipes for "vibrant, earthy, unexpected" dishes from across the region in her book, Kaukasis The Cookbook. The "culinary journey through Georgia, Azerbaijan & beyond" received a great many praises from her readers and specialists from the field.
Peek Into The Life Of Other Food Writer: Grant Achatz Wiki, Married, Wife, Divorce, Girlfriend, Net Worth and Cancer
Previously, in 2015, she opened British eyes to Ukrainian cooking with her debut cookbook Mamushka, which won a number of awards including the 2016's Fortnum & Mason Debut Food Book Award in 2016 and Observer's Rising Star Award.
More Facts On Olia Hercules
Oftentimes, Olia said that had it not been for her first-born, Sasha, she would not have achieved what she has achieved since his birth.

She embraces a mixed heritage: Ukranian with Moldavan roots on her mother's side and Siberian roots from her paternal grandmother.

Before Olia was eighteen and moved to the UK to study at Warwick University, she was "too lazy to cook". It was later during a year out in Italy that she actually caught on the cooking bug.

Back in the times, before the two met, her husband Joe used to live in the London East End property.

Her dad turned 62 in January 2020. Likewise, her mother's birthday falls on 8th March.