Grant Achatz, one of the most renowned chefs in America, is one of the leaders in molecular gastronomy or progressive cuisine.
His passion and dedication as a prominent cook, despite being diagnosed with cancer, had earned him lots of reputation and fame from where he had developed himself to be one of the prominent chefs all across the world.
Grant is one of the prominent chefs in the United States and is renowned for his award-winning three-star restaurant in Chicago called, Alinea. He served in many restaurants before coming to fame.
He also had published numerous books some of them being, Aliena Recipe book and the biographical book Life, On The Line.
Bio & Career
Grant Achatz was born on April 25, 1974, in Michigan, USA. His bio suggests, he is 43 years old. He grew up in eastern Michigan and worked in his family restaurant.
More From Star-chefs: Christine Cushing Married, Husband, Divorce, Age, Bio, Net Worth
For his education, Grant graduated from the Culinary Institute Of America in 1994. He then served at Charlie Trotter's Chicago Restaurant.
In 1996, he worked under Thomas Keller at French Laundry and after Thomas four years guidance; he took a small detour to Spain.
In 2001, near Chicago at Trio restaurant, he took a duty over the kitchen. Grant recognized as Best New Chef by Food and Wine magazine in 2002. He was also awarded as Rising Star Chef by James Beard Foundation (JBF) in 2003.
In 2005, Grant and Nick Kokonas launched their restaurant Alinea, and in 2007, it was recognized as one of the best restaurants by JBF.
Grant Achatz Divorce To Married Details With Wife / Girlfriend
When Grant moved to Chicago, he was dating Angella Snell. The couple was smitten with each other and showered their lives with happiness as they welcomed their son, Kaden in 2001. 
Later, Grant and his girlfriend, Angella welcomed their second son, Keller.
After years of dating, Grant and Angella finally got married. But Grant didn't live for them; he lived to cook. He was a chef who was addicted to cooking. In 2007, Grant suffered from tongue cancer and was diagnosed with stage IV nonmetastatic tongue cancer.
He went to Chicago hospital, but his doctor suggests him to cut his tongue. They further told him if he did not treat it immediately, he could die.
Grant was horrified and flew to New York. He got his treatment from a top cancer hospital Sloan-Kettering Cancer Center of America. Grant went through chemotherapy and gradually recovered from his illness. 
He then got back to his not so good family life with his wife. The couple then decided to put an end to it and hence got a divorce eventually.
Get To Know: Jeremy Ford Wiki, Age, Married, Wife, Daughter, Top Chef, Restaurant
Taking a while to recover from the split, the famous chef yet again found himself falling for someone new. 
And this time it was with a gorgeous named, Briseis Guthrie. It all began when they were publicly spotted together on 6th May 2013, during James Beard Awards in Avery- Fish Hall New York.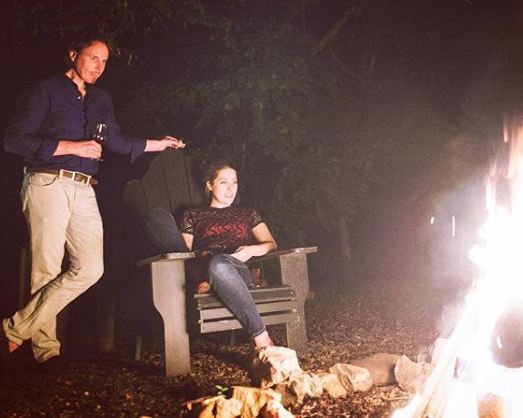 Grant Achatz and his girlfriend Briseis Guthrie as they enjoy their outing at Blackberry Farm on 2 September 2018 (Photo: Briseis Guthrie's Instagram)
In January 2014, in an interview with foodandwine.com, Grant noted that he loved cooking for his two sons and his girlfriend, Briseis.
Besides cooking at home for his beloved ones, he got into a new TV-cooking venture as of the year 2018.
He appeared as one of the chef-judges in Netflix's long-gestating culinary competition, The Final Table, alongside his contemporaries, Helena Rizzo, Carlo Cracco, and Clare Smyth. 
Furthermore, on the recent days of August 2019, when he got invited as the guest judge in one of the episodes of the most popular show of all time, Masterchef, the contestants couldn't hide their excitement. One of them even went teary-eyed.
All in all, Grant is sure amidst creating a legacy of his own in the hospitality world. Besides his many star restaurants all over places, he equally plays a remarkable part in television shows. All of it definitely contributes to his net worth, the digits to which remains unheard of.