Reality star Nilsa Prowant who rose to fame after being cast on MTV's Floribama Shore has become a sensation in the modern entertainment world. 
Nilsa is also famous as "nillythesquid" on Instagram, maintaining more than 50K followers. Besides the entertainment world, she is also known as a professional stylist renowned for makeup and style. 
Through her career, Nilsa might be enjoying her net worth in a million or more. On 26 December 2018, she tweeted that she bought her first car from her own financial resource. Even though she has not disclosed how much she earns, she might be receiving good pay from her show.
Moreover, Nilsa has not only attracted people with her charm but also with her personality. With a height of 5 feet 1 inch (1.54 meters), the reality star possesses a curvy figure. 
While she does not seem very tall in her height, her career height overpowers every other thing.
Nilsa Prowant Married To Husband / Boyfriend
Nilsa was married at one time. When Nilsa was 20 years of age, she was married to James Anderson, a marine, and she was very much in love with her husband.
Everything was perfect in her life until she became pregnant with her husband's baby. Well, carrying the baby of her loved one is a fantastic feeling, but unfortunately, Nilsa miscarried the baby, that turned her life upside down.
After Nilsa lost her baby, everything changed, and her husband was also deployed. Nilsa mentioned that after her husband returned, he cheated on her. Eventually, Nilsa separated from her husband and moved on in her life. Their divorce was finalized on 17 November 2017. 
Later, Nilsa went on a date with a cast of her show, Gus Smyrnios, but Nilsa then said she did not feel any romantic vibes with Gus. They never announced their relationship publicly.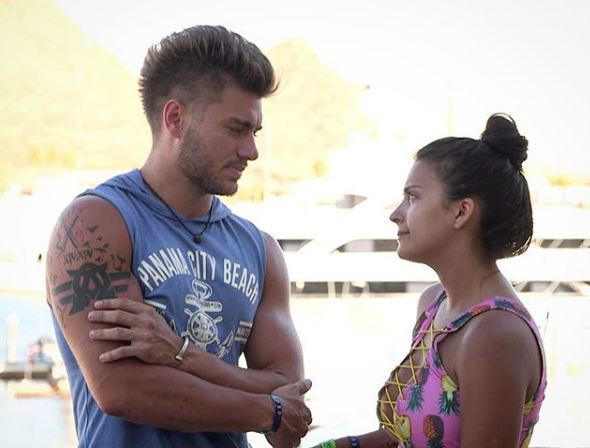 Nilsa Prowant chats with Gus Smyrnios on 21 December 2018 (Photo: Gus Smyrnios' Instagram)
Then Nilsa hooked up with Jeremiah Buoni's brother, Josh. But the thing between them never got into next level.
However, even though she dated a few guys, she has not found someone who she can spend her whole life. On 20 December 2018, she even tweeted about not having a boyfriend. Nilsa might be giving her love life a break and enjoying her singlehood as of now. 
Family & Ethnicity
Born in 1994, Nilsa Prowant celebrates her birthday on 2 January. She spent her childhood in Panama City, Florida, with her family creating beautiful memories.
Nilsa has a sister and brother but has never revealed much about her brother. She only mentioned having a brother on her tweet on 31 May 2018.
Moreover, Nilsa embraces a mixed ethnicity, as her father, Todd, is Caucasian and mother is of Panamanian descent.