Nicolette Gray, who has appeared in the Dr. Phil talk show rose to fame for being the "Beverly Hills Brat."
She was raised by a single-parent mother who made sure Nicolette gets everything that she wants in life. In the process, she was blessed with a lavish life which made her addicted to shopping and spending money from an early age.
But Nicolette also gained good fashion knowledge at the same time; thus, she utilized her expertise to start her merch line.
She sells hoodies, tube tops with printings of "Beverly Hills Brat" and more.
Besides her clothing business, Nicolette is a YouTube star as well where she has released videos including 'Buying everything my sister touches,' her house tour and more.
With the help of her works, she lives a lavish life at the early age of 17, which many can only dream of. As of now, Nicolette gets her earnings from YouTube to add to her net worth. However, in the past, her mother used to provide her with an allowance of $5,000.
Nicolette Gray Wiki: Age, Birthday
Nicolette Gray celebrates her birthday every year on 15 April.
Born in 2002, Nicolette was raised by her single mother, Nina Gray. Nina Gray is the founder and CEO of Dental Plus California. She is also a part of the American Dental Association and the National Association of Professional Women.
However, Nina had to struggle to meet ends to raise Nicolette and provide her with the best of everything. 
Nicolette even has a sister named Blair Gray who often makes appearances in her YouTube videos. The family shares such a close bond that reflects on Nicolette's YouTube videos.
Worth The Read: Deja Jackson Wiki, Age, Parents, Ice Cube
Speaking about Nicolette's dad, it is believed that he and her mother separated when she was young. But he came into her life recently when Nicolette was going to release her life documentary.
According to Nicolette's YouTube video, her dad sued her in court for speaking about him in her documentary. Nicolette's dad didn't want his part from the life of Nicolette to be shown anywhere; thus, he took the step to sue her.
However, Nicolette has not spoken anything about her dad in her documentary, which helped her win the case over her dad on 1st July 2019.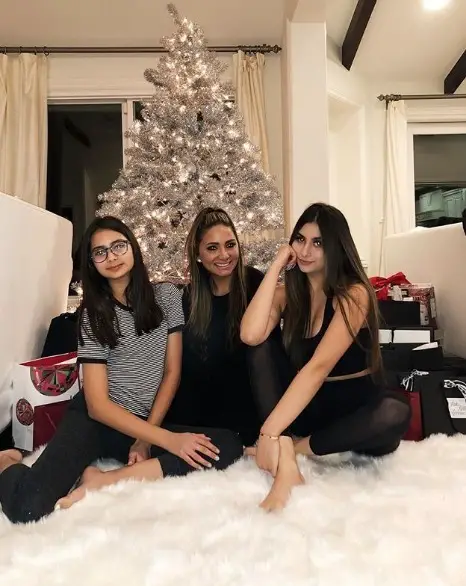 Nicolette Gray and her family wish their fans happy holidays on 11 December 2018 (Photo: Nicolette Gray's Instagram)
For Nicolette's education, it is not known if she goes to a high school or not. But as she is a popular media figure and YouTuber, she might be homeschooled. 
A fun fact about Nicolette is that her house is located in one of the wealthiest areas called Beverly Hills in the United States.
Nicolette, who is a sucker for clothes and bags also loves cars. In fact, for her 16th birthday, Nicolette got a G Wagon car from her mother as a gift. 
Is Nicolette Dating Boyfriend?
Nicolette Gray is a beautiful teen, and her fans are curious to know about the current relationship status of her fav YouTuber.
Well if you regularly watch Nicolette's YouTube videos, you should know that she was dating a guy this year with whom she spent a great Valentines day. Although she did not mention his name, he was in the video that she uploaded on 16th February 2019.
But the relationship did not go along as they broke up on 13th May 2019 which left Nicolette heartbroken and eyes full of tears. 
After her break-up, she is later seen with fellow YouTuber, Blake Linder. While the fans of Nicolette are speculating that Blake is her new boyfriend, even though she has not confirmed any dating details with Blake.