It is often said that a woman is behind every success of a man. And the person behind famous comedian and director, Bob Odenkirk is none other than his wife, Naomi Odenkirk. She is also a writer of a book 'Mr. Show: What Happened?' which happens to be a fully-illustrated book featuring original, never-before-seen material with a complete episode guide to 'Mr. Show' an American comedy series aired on HBO from November 3, 1995, to December 28, 1998.
With the help of her experiences and skills, Noami also runs Odenkirk Talent management with her husband Bob Odenkirk for about 12 years. In addition to this, in April 2009, Naomi also launched her new comedy-centric rep firm along with  Marc Provissiero with the name Odenkirk Provissiero Entertainment.
Other than that Naomi is also a producer of a hit comedy 'Melvin Goes to Dinner' which is an award-winning movie directed by her husband, Bob Odenkirk. Naomi also represents many Hollywood actors and actresses from Kristen Wiig to Bill Hader. Kristen is now a client of Naomi Odenkirk and several other big names in comedy.
Naomi Odenkirk's Marriage:
Naomi is a married woman and is together with her star husband, Bob Odenkirk for two decades.
Know About: Mona Eltahawy Married, Husband, Partner or Single, Family, Bio
Bob is an American writer, director, and producer who is best known for his significant role in Breaking Bad. It is a crime drama television series which is about a high school chemistry teacher who suffers from lung cancer.
So, how did it all started between Naomi and Oden? let's have a quick look!
Before she shared her wedding vows with Bob, she fan stalked him for a year and a half until Bob noticed her. The duo then started dating each other and married in 1997.
Naomi also played a big part in how she helped her husband land a role in Breaking Bad that finally led him to more success, and rest, as they say, is history. Now, the adored couple are the proud parent of two children.
You Don't Wanna Miss: Tim Cowlishaw Wiki: Bio, Wife, Married, Children, Net Worth
The husband-wife partnership also has been one of the most famous couples in Hollywood. With their long and happily married life and wedding taking place some twenty years ago they have set an example for other couples who get a divorce in no time.
Bob and Naomi are often seen together in red carpet events and award functions.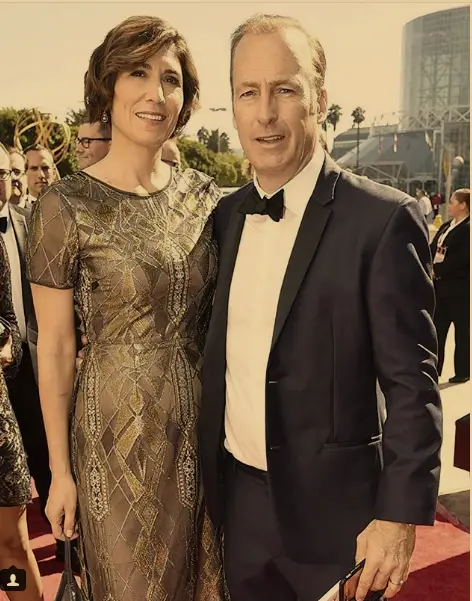 Naomi Odenkirk and her husband, Bob Odenkirk appearing together on July 21, 2017, Photo: Instagram
 His husband is pretty happy at how things have played out in his life where he gets to be with his family and children unlike some other couple, and this is what he had to say about his work and personal life,
"I pretty much live about 10 minutes from my office. I have two kids, and I have about 8 projects that I'm working on, so I basically just get up and go to work, and go home every night and play with my kids, so I don't really know".
Naomi and Oden also are blessed with a son whom they named Nathan Odenkirk.
As of now, their son Nathan is all grown up and has chosen the profession of an actor just like his father Oden, He was starred in the movies like Melvin goes to dinner in 2003 and Rat Bastard in 2014.
Naomi Odenkirk's Brief Bio:
Naomi was born as Naomi Susan Yomtov and stays behind the limelight. So her birth year and age remains a mystery.
Recommended: Alissa Violet Wiki, Bio, Age, BirthDay, Boyfriend, Dating, Net Worth,
However, going with looks, she probably ages around the late forties or fifties. Her information about family is beyond the reach of media. But as a mother of two children, she raises her kids in a beautiful environment. She and her husband own of many expensive homes in Hollywood worth millions of dollars, making her net worth in the millions.
Though actual amount of Naomi's net worth remains in the shade, her husband, Bob Odenkirk has amassed a wealthy amount of net worth that sums total of $10 million.