Mimi Faust is known for her appearance in the VH1 reality series, Love & Hip Hop: Atlanta, but she is also the owner of the estate and cleaning service, Keep It Clean, Inc. 
Most people recognize Mimi for her relationship with some of the most famous music artists, but she is not only known for her connections. She is also an entrepreneur, who is trying to develop a children's fashion line, which is gaining much fame!
Even though her net worth is not yet revealed, it is estimated that she has amassed a hefty amount for herself.
Mimi Faust Age, Birthday & Real Name
Mimi Faust celebrates her birthday on 3 January every year. She was born in 1970 in Newport News, VA with the real name, Oluremi James.
She is very proud of her ethnicity and skin color, so she believes that one should never try to bleach their color or change their hair texture and be someone that they are not. Beautiful and bold Mimi, at the age of 49, stands at the height of 5 feet 8 inches (1.73 meters).
Mimi's childhood was not that of an ordinary child as her biological parents did not raise her with overflowing love. Instead, Mimi was abandoned by her mother Olaiya Odufunke, who chose Scientology over her children. Mimi learned to be self-independent after this incident and did not sign a contract with the Church even when her mother persisted occasionally.
Read More About: Stephanie Sersen Wiki, Age, Ethnicity, Dating
After Mimi separated from her mother, she realized that she was the result of an affair and her father was someone else than she believed. She then set out on a venture to find her birth father, who turned out to be an artist from upstate New York and met him during her mid-twenties. The father and daughter developed a great relationship and stayed very close. 
However, the story did not have a happy ending as her father died in 2014 due to unknown reasons. 
As if her life wasn't kicking her already, in May 2019, Mimi was shot during her home invasion. She revealed that the incident was traumatic. For now, there is no information about who the alleged assailant is and how they broke in. Not much about the shooter's motive is known either.
Relationships, Daughter
Mimi Faust is most popularly known for her relationship with Grammy Award-winning musician, and producer Stevie J. The duo was in a relationship for a long time, 15 years to be precise. Mimi was very supportive of Stevie in the past, and the pair even shared a daughter named Eva Jordan, who was born in 2009.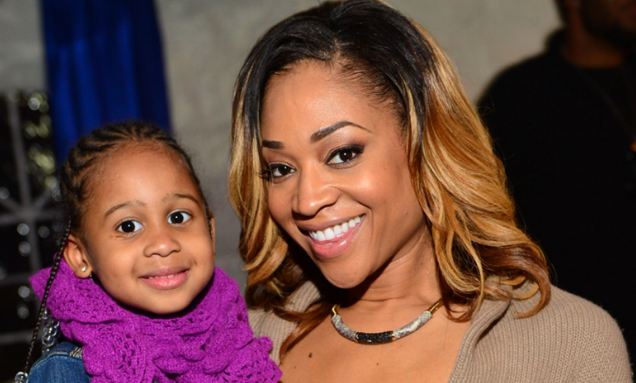 Mimi Faust's daughter Eva Jordan appears on the show Love & Hip Hop: Atlanta (Photo: celebrityinsider.org)
The couple parted their ways in 2012 when Mimi caught Stevie cheating on her with artist Joseline Hernandez. After Stevie's break up with Mimi, he openly started dating Joseline, who gave birth to Stevie's another daughter, but they too split up.
Currently, Stevie is married to American music artist and actress Faith Evans. When asked about Stevie's wedding, Mimi revealed that she was glad for both of them!
After dealing with a cheating boyfriend, Mimi did not give up on love and started dating another music artist, Nikko London. In 2014, Mimi's sex tape with Nikko was released, which was later revealed that it was all staged for money and Mimi earned about $30,000 from the sales of the tape.
See Also: Keith Dewar Wiki, Age, Ethnicity, Wedding, Wife, Children, Salary
Mimi and Nikko's relationship too underwent some ups and downs, and the pair also split up. Today, Mimi shares a good bond with both her exes and has no hard feelings for both of them. 
Mimi Faust In A Lesbian Relationship With Girlfriend!
After years of trying to stay happy in tumultuous relationships with men, Mimi Faust came out as a lesbian.
She is now relishing a pleasant love life with a woman. The person that Mimi Faust is currently dating and is madly in love with is Tamera Young, who is a professional basketball player.
Mimi and Tamera regularly post pictures with each other on social media, which shows that they are smitten with each other.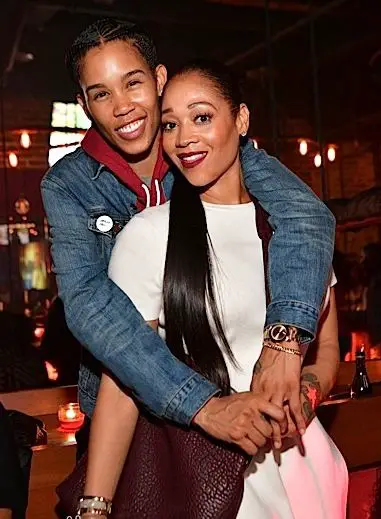 Mimi Faust enjoys quality time with her girlfriend, Tamera Young (Photo: thejasminebrand.com)
When Mimi posted a picture with Tamera on national girlfriend day, some of the people posted homophobic comments, but the couple backlashed on the commenter together.
Both Mimi and Tamera are very much in love, and it seems like Mimi has finally got it right!