Stephanie Sersen is an Engagement Controller Manager at Deloitte, where she manages all the works related to finances. 
Very talented Stephanie is one of the most gifted ladies who has had many jobs experiences in many parts all around the world; for example, she also worked as a financial project analyst at the SunGard Availability Services.
However, her work is not related to the media industry in any way, so how is she so famous in the media industry?
Dating & Wedding Details With Husband
Stephanie revealed on the show that she had dated a few men in the past and rejoiced some long term relationships. However, her relationships did not last long because the men she was dating were not fully committed.
She decided to find love on the reality show, Married At First Sight as she had watched the show ever since she was young and fully trusted the producers. At 35 years of age, she was tired of dating and was looking for a committed man of around her age, and in the hands of trusted casts of the reality show, she did not mind marrying a total stranger.
See Also: Natasha Raskin Wiki, Bio, Married, Husband or Boyfriend and Net Worth
Stephanie Sersen got married to AJ Vollmoeller, the president/owner of FutureForce. AJ had also appeared on the show to find love and get married like his wife, Stephanie Sersen. They tied the knot on the show and rejoiced the wedding reception before even knowing each others' name!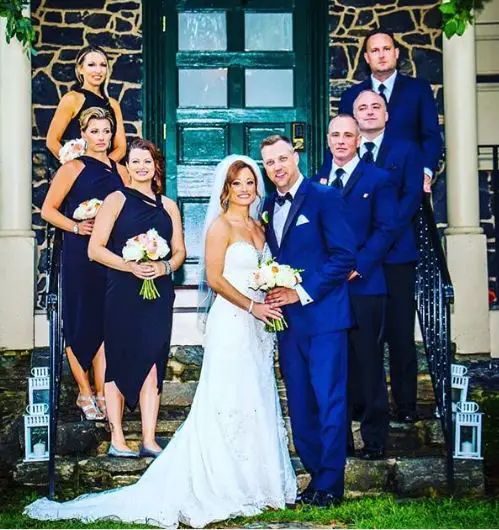 Stephanie Sersen gets married to husband AJ Vollmoeller on the show (Photo: AJ Vollmoeller's Instagram) 
The couple got along well, and after spending a lot of time together, Stephanie's husband revealed that he was slowly falling in love with Stephanie. The couple did not split up like the other casts. Amazingly, they are still together.
Stephanie Sersen Wiki: Age, Ethnicity
Stephanie Sersen is a secretive person, who does not like to publicize all of her information. However, after she appeared on the reality show, Married At First Sight, she gained the spotlight of a celebrity and had to reveal some of the information to the media.
Stephanie, who was born in the year 1984, is now at 35 years of age. She was raised in a happy family, where her parents were madly in love. Even on the show, Stephanie described that she wanted a man who could love her like her dad loved her mom! The facts about her birthday and ethnicity are not known.
Read More About: Mina Starsiak Wedding, Married, Husband, Family, Bio, Age, Instagram
However, it is known that Stephanie was a very bright student, who was always focused on quality education, so it is not a surprise that she turned out to be a career-oriented lady, spending a lot of time at the office. She is very passionate about her job, and as she is at the height of her career, it undoubtedly pays her well. She is expected to earn about $98K salary per year by her job at Deloitte.
Similarly, she was also paid for her appearance in the reality show, which garnered her the amount more than $20K. After she appeared in Married At First Sight, she is expected to be seen in more of the movies and reality TV shows.
Interesting fact- Stephanie is also a traveler and likes to collect the souvenirs from different places. 
Stephanie and her husband are the examples that one does not always need to have an ordinary love story. Stephanie had no idea that she would wed someone before knowing him. But she now regularly posts pictures with AJ and flaunts their blissful married life to the public.