Meghan King Edmonds is one of such people, who have carved a name for herself through hard work, patience and dedication.
Well, she is a reality television star famous for her appearance in the reality show The Real Housewives of Orange County, season 10, 11 and 12.
And, as a reality star, she is bound to surround herself in daily dramas, having laid most of her reality in front of the media and public eyes.
Meghan King Edmonds' Wiki
Meghan, age 35, was born on 26th September 1984 in St. Louis, Missouri.
She is the oldest child of her parents; Kevin and Julie. She has a brother named RJ, and two sisters - Julie and Caitlin.
She gets very little time to spend with her parents. So, she maintains her relationship with them through social sites.
You May Also Like: Mehgan James Husband, Boyfriend, Net Worth, Age, Wiki, Birthday
She was a track and field star, who competed in the shot put and triple jump during her high school days. 
Talking about her education, she studied marketing at the University of Mississippi and graduated.
Meghan Wedding, Husband
Meghan met her soulmate Jim Edmond, a former baseball player in the year around 2013. After relishing romantic moments of courtship, Jim got engaged to Meghan. Most interestingly, Jim gave an engagement ring worth $70K to his beloved.
After a year, the couple exchanged wedding vows on 24 October 2014. There, at the ceremony, Meghan looked stunning in her white wedding dress.
Prior to Meghan, Jim had two past relations and four kids from them. And in Meghan's part, she happily accepted her hubby's past.
The duo's finally celebrated their moment of parenthood with the birth of their daughter, Aspen on 24th November 2016.
Moreover, their happiness doubled up when Meghan gave birth to twin baby boys, Hayes, and Hart in June of 2018.
Within the four years of her marriage, Meghan became the proud mom of her three kids.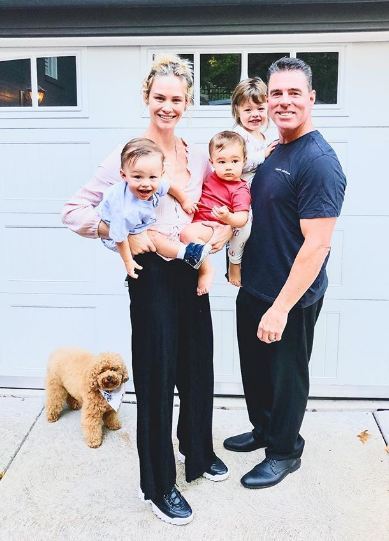 Meghan King with her husband, Jim Edmond, daughter Aspen and twin boys, Hayes, and Hart on 15 September 2019 (Photo: Meghan King's Instagram) 
However, it became challenging for Meghan to care for her children and carry out her career at the same time. Hence, she reached a conclusion of quitting her show.
And, upon such a decision, her husband supported her.
Don't Miss: Jessica Parido Bio, Age, Boyfriend, Father, Cancer, Net Worth
All in all, the couple were assumed to be living their happily ever after until the several media platforms covered the news of their split and soon to be happening divorce.
The whole course has undoubtedly been an endless scandal.
While on one hand, Jim admitted that his wife will need to start worrying about money now that they've called it quits and at the same time, he claimed to be moving on from his family's public scandal to make everything right again.
I'm removing myself and all of my family from this unnecessary publicity that I obviously have never quite enjoyed. I have way too much love for my wife and kids for this to happen and it's time for us to get back to the private life we used to live.

Meghan is a truly special woman who my kids are so fortunate to have as their mother.

Hoping for some peace, normalcy, and the ability to move forward in a healthy, happy direction for every single person involved. I love my family and will make it right again
This sure raised so,e hopes in people who would not want to witness, their ideal couple going through a nasty separation.
To begin with, everything had started after he was alleged to be cheating his wife with their nanny, which Jim has been strictly denying, ever since the rumor surfaced the media.
Her Net Worth
Apart from being the television personality, 34-year-old has a series of involvements in other fields as well.
Once, she was Brand Ambassador and Director of Sales for Sweet Cosmetics.
In the year 2016, she also became a blogger discussing her family life and motherhood.
Also, she owns a line of personal care products. As of now, her net worth is $5 million.