Maureen Dowd is a renowned American columnist. She is a liberal writer who writes for The New York Times. Maureen is an established writer lucky to gain the name of a best-selling author. She entered the industry with a lot of hope to reach a great height of success and today; she has successfully achieved that. We will tell you all about her career and her personal life in detail here.
Maureen Dowd's Personal Life & Family
Born on 14 January 1952, Maureen Dowd grew up in Washington D.C. She was the youngest of five children, and her mother Margaret was a housewife and father Mike Dowd worked as a Washington, D.C. police inspector. While her father Mike was in charge of Senate security for 13, one of her older brothers, Michael worked his way through Law school as a Capitol elevator operator. 
Once Dowd even ate chocolate mixed with weed; Maureen helplessly fell from the high of it.
Also Read: Fox News Molly Line Wiki, Husband, Net Worth
She graduated from Immaculata High School in 1969. Later, she received her B.A. in English from the Catholic University of America in Washington, D.C.
Career - Salary & Net Worth 
It was in the 1970s and 1980s that Maureen worked for Time magazine and the Washington Star. She established her experience covering several news and sports. She even wrote articles during that time. In 1983, Dowd took a major decision in her life. It was one of the most important decisions she made to date. It was then that Maureen joined The New York Times as a Metropolitan Reporter. She gradually succeeded in becoming an Op-Ed writer for the newspaper. 
Maureen proves to be one of the most successful ones in the industry by receiving a Pulitzer Prize. She won the award for her series of columns published on the Monica Lewinsky scandal during the Clinton administration.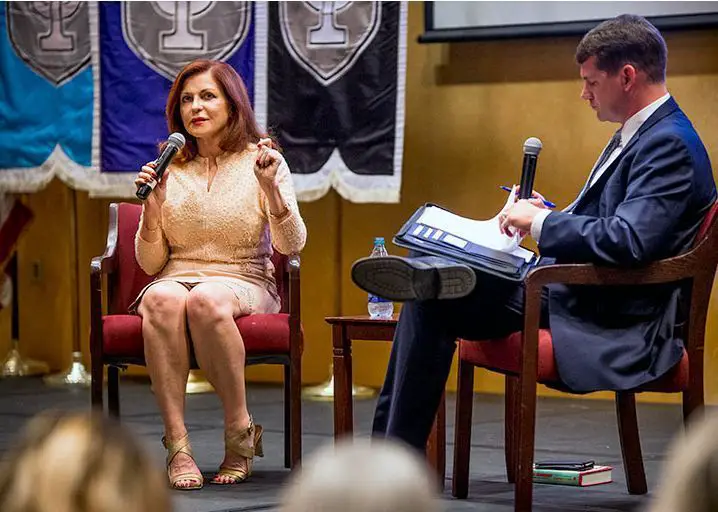 Maureen Dowd during an interview at Tulane University in 2016 (Photo: news.tulane.edu)
It is the risk that she took in the young age that helped her become who she is today. She still takes risks and confidently writes on topics related to Trump.
Worth The Read: Darren Mann Age, Gay, Dating, Parents
Despite such fame and success received in the industry, she never talked about her net worth aloud. She believes in working hard but never goes out talking about her accomplishments. She earns a good amount of salary and has accumulated a good wealth which will suffice for her luxurious living.
The success that she received in her career that expands to almost four decades has undoubtedly earned her good fortune. 
Maureen Married, Husband
Moving onto her personal life, she is not married. Thus, she does not have a husband. However, once she was dating Aaron Sorkin, the creator, and producer of The West Wing. However, things did not end well, and she and her boyfriend moved in different ways. 
Nevertheless, she was also connected with the actor Michael Douglas, but both of them never talked about it.
Maintaining a secret personal life, Maureen is absent on Instagram. However, she is active on Twitter. She has about 615k followers who want to read her posts and views. They have been a great support for her success. Dowd received criticisms but have managed to balance it out with the appreciation that she got for her work.