Keone Madrid is a renowned American dancer, who is widely known for his YouTube Channel, Keone and Mari. He is further popular for choreographing for famous Kpop stars like BTS, 2NE1, Taeyang and more. Keone has also appeared for Justin Bieber's music video for Love Yourself.
In case the name doesn't ring any bell, here are some enthralling wikis on Keone Madrid's age, ethnicity, relationship with parents, his net worth, and the details of his dating-turned-married status with longtime girlfriend, Mari Madrid.
Keone Madrid's Net Worth
Keone attended college for 1 and a half years, but then he also traveled to different places around the world where he taught dancing, which took his career to a great height.
Along with choreographing for the crew of Choreo Cookies, Keone also danced with groups like Culture Shock San Diego, Formality and Future Shock San Diego. 
Keone also founded a show named, Beyond Babel, which is a theatrical dance show about the division of families, friends, and a community of people as authorities decide to build a wall between them.
Don't Miss: Karl Cook Wiki, Net Worth, Age, Wedding
His successful career has helped him garner a tremendous amount of net worth along with worldwide fame. 
Happily Married To Mari Madrid
Keone Madrid has stolen the hearts of millions with his unique moves and attractive personality. However, this handsome man isn't single.
Keone is happily married to his longtime girlfriend, Mariel Madrid. Mari, who is also Keone's dance partner exchanged vows with him on 11 June 2012.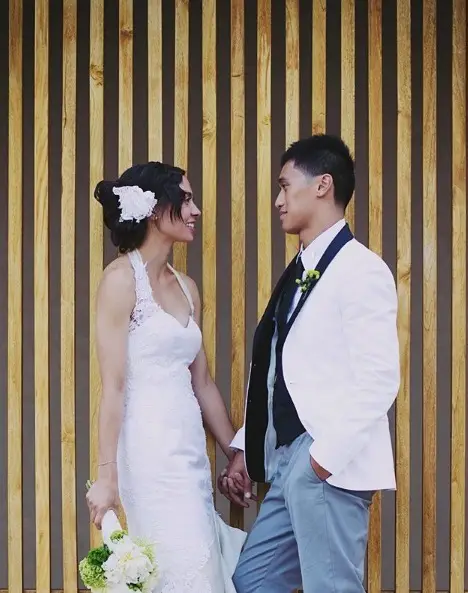 Keone Madrid wishes his wife, Mari Madrid on their anniversary on 11 June 2018 (Photo: Keone Madrid's Instagram)
The duo's similar passion and interest for dancing might have sparked the love bomb between them, leading them to start dating. Keone and Mari have a YouTube channel, where they post videos together.
Keone and Mari are the two lovebirds, who do everything together. From dancing to traveling, they can't seem to get enough of each other, even after six years of marriage, which makes people believe that true love does exist.
Adding more to their happiness, Keone and Mari, who have been married for so long finally announced on Instagram on 29 January 2019 that they were expecting a baby girl anytime soon. Keone and Mari are more than ready to welcome their first child and treat her like a princess.
Keone Madrid Wiki - Age, Ethnicity
Keone Madrid celebrates his birthday on 30 June every year. Born in 1988, Keone was raised by his parents in San Diego, CA as per his wiki. He has two siblings, Kaila Madrid, and Charina Madrid. Holding an American nationality, Keone embraces Filipino-American ethnicity.
Worth The Read: DWTS' Elena Samodanova Age, Height, Daughter & More Info
Though the details on his educational background are confined, it is known that Keone started dancing at age 15. Keone was passionate about sports and played basketball for ten years, but then dancing took over as his new passion.
Keone's interest in dancing started budding after he was invited by a friend of his to join a dance class in high school. He then took lessons from Rainen Paguio and Belle Paguio, the two aces in the dance field to help him become one of the best.
Keone, age 30, also learned more about this art form from Justin Timberlake, Michael Jackson, N'Sync and Usher's music videos.