Reality star Ken Cage is the co-owner and president of International Recovery Group. He is seen on the Discovery Channel's Airplane Repo, who repossess boats and airplanes on the show.
He is also often put in precarious situations to ease debtors of their unpaid assets. 
On the show, Ken is often accompanied by the American repo agent and former bounty hunter, Danny Thompson, and together they search, hunt, and run down boats and Airplanes for various banks. 
Ken Cage Net Worth, TV Shows
While getting his education from Cabrini, Ken Cage was also working as a manager at JP Morgan. Later, he began working as a director of security at Graduate Hospital.
Eventually, Ken decided to take his career in the higher level and entered into the media field. He began hosting at Real Repo Radio, and his media career took him to the show, Airplane Repo, as the lead character. 
On the show, the viewers can see Ken's unmatched knowledge of the repossession laws, which he consistently follows. 
Peek Inside: Wendy Rieger Wiki, Age, Married, Husband, Family
Alongside his other works, Ken also established International Recovery Group, the premiere repossession and remarketing company in the world. Ken handled all the private transaction of the company. 
Because of the honest work, he was appointed as president of operations at CW Aviation, Inc. As he has already been part of one TV show, maybe in future he might be granted in the more TV shows. 
As of now, from his work, he has made a net worth of $10 million as per celebritynetworth.com. 
Ken Cage Married To Wife
Ken is happily married to his wife, Karen. He has not mentioned the exact date of his marriage. But on 24 August 2017, he tweeted, hinting that he had been married for 27 years.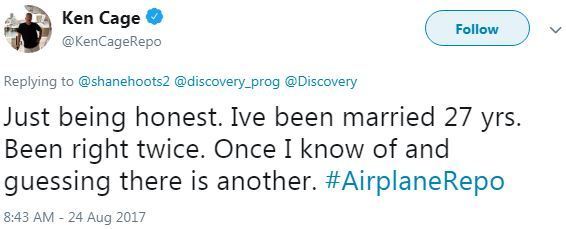 Ken Cage tweets about his 27 years of marriage on 24 August 2017 (Photo: Ken Cage's Twitter)
Moreover, Ken is not only a loving husband but also a proud father of four children, Madalyn, Megan, David, and Jimmy. His oldest daughter has already tied her wedding knot. And other children are also already grown-ups.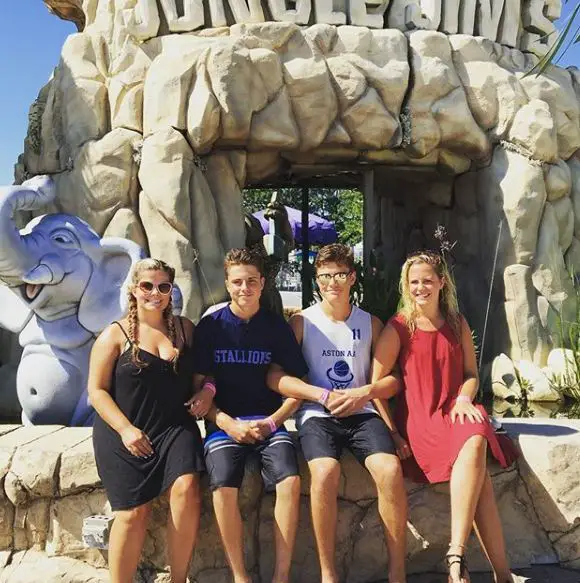 Ken Cage four children enjoys their siblings time at Jungle Jims WaterPark on 4 August 2017 (Photo: Ken Cage's Instagram)
Ken has well supported and managed his family, providing all love and care they needed. As of now, he can proudly call him as a husband as well as a father.
Ken's Bio - Age, Family
Ken, who was born on 23 November 1965, spent his childhood in Delaware Country, Pennsylvania, a suburb of Philadelphia, with his family. In his hometown, he often coached little league baseball. 
Worth The Read: Jackie Bruno Husband, Salary, Family, Height
However, other than that, he has not disclosed much information about his parents, family background. 
For his education, Ken studied at Delaware County Community College in Associate of Arts and Education. He graduated from his college with high honors - the highest designation offered. 
Later, Ken enrolled at Cabrini College from where he graduated with a B.S. in Mathematics.