Wendy Rieger is a renowned American TV anchor, reporter, and former radio host. Currently, she is affiliated to NBC Channel 4, and there, she has already celebrated her three decades of excellence.
Wendy began her professional storytelling in the public radio, at WAMU. She always loved the whole idea of not having to expose oneself physically like while working for the television. The radio listeners are unbiased and completely indulged in the story, so she says.
At some point in her life, she even thought that the acting was her true calling, and thus, Wendy tried her luck just in case until she realized what she really needed to do. She co-starred with the legend, Bob Denver, in a dinner theater production of Play It Again, Sam.
Today, her 30-year-career at Washington's NBC4 pays her a decent salary for covering stories in News4 at 5broadcast.
All in all, the once voted "Local Celebrity I'd Most Like to See in a String Bikini" by the readers of "Washingtonian" magazine in 1995 must have garnered a massive net worth from her long-haul in the industry.
Wendy Rieger's Wiki / Bio: Age, Education
Wendy celebrates her birthday every year on 18 April with her friends and family. 
When she was only 8, her parents separated and divorced due to some unknown cause. It was a rough phase in her life, and reading became her great escape. The fifth-grader soon found solace in some corners of her house with books by her side. 
More From News Anchor: Alex Witt Wiki, Bio, Married, Husband, Partner, Height and Salary
Her mother was an English teacher and also a reading specialist, which helped Wendy even more. Her father was an airline pilot who called her "Wendy Bird."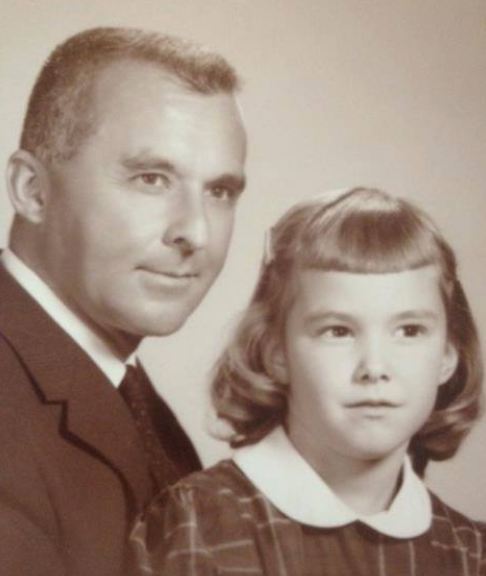 Wendy Rieger shares a childhood throwback picture with her father, a former airline pilot, on 17 June 2016 (Photo: Wendy Rieger's Facebook)
Despite her parents' differences, they loved her to the fullest. Her mother's "Pull your own weight, make your own money, and depend on no one for your happiness" manifesto ingrained some drive within her throughout her life. 
Wendy, age 63, attended the Old Dominion University and also the American University, in regards to her formal education.
Long-Time Ally Of The LGBTQ+ Cause
The humble, genuine, frank, and down-to-earth, Wendy has most certainly used her public persona for good.
The TV journalist has persistently put herself out there supporting the LGBTQ+ community and advocating for their concerns. On the way, she served as host and emcee for various LGBTQ+ organizations.
Her remarkable service has continued for over the past two decades, most conspicuously in SMYAL and GMCW.
Continue Reading: Zain Asher Wiki, Married, Husband, Boyfriend, Salary, Net Worth, Bio
One always does not need to be sexually oriented to the LGBTQ+ community to help their cause. 
She has always been vocal about her heterosexuality when many speculate on her being a lesbian as she has raised her voice to a higher degree in compared to many local TV and media colleagues.
Is Wendy Married To Husband?
Wendy has had her fair share of relationships and partners all her life. While going through her life history, her husband, CNN producer Sol Levine, had been mentioned in 1993.
Also, quite a few times, she revealed some hits like the time when she had the best mother-in-law or supportive husband.
Be that as it may, her marital status as of now remains a complete mystery. But she seems to have split with her husband. She talked about a few relationships and break-ups in between.
Despite the lack of serious and long-haul relationships in her life, the gorgeous TV lady merrily flaunts her fitness-strived self, standing to a perfect height. She enjoys herself and loves her own company more than anything else, whether she is married to someone or not.
She prioritizes her independence over everything else and struggles quite a deal before letting someone in her life. 
On 27 January 2017, she shared a picture of a man named, Patrick.
Wendy Rieger posts about her one year of togetherness with her boyfriend, Patrick, on 27 January 2017 (Photo: Wendy Rieger's Facebook)
They had been together for a year, according to her caption. However, the recent updates and new developments remain veiled.