Kelsey Impicciche gets to practice her passion every day and at the same time gets paid for it. She is an American actor, writer, and YouTuber, best known for acts in The Changing Room, The Mastery, Love Exclusively and The Suicide Note. 
She is currently a social media personality and content producer at the Buzzfeed. 
Kelsey Impicciche's Wiki: Age, Ethnicity
Kelsey was born on 11 July 1991 in Los Angeles, California. She holds American nationality.
The blogger and content creator always thought she embraced Italian ethnicity from her father.
Lately, on 1 Aril 2019, she did an Ancestry DNA Test video on her YouTube blog. She was stunned to know about her ethnicity being mostly dominated by British origin. However, being part-British somehow made her happy because of her obsession with London.
Kelsey grew up in a family of four- her father and mother who often appear in her contents and her brother, who himself is a blogger of a gaming channel on YouTube.
Interesting Read: Sophia Grace Wiki Unveils Everything From Age, Parents To Net Worth
Kelsey is occasionally commented on her good looks and her elated personality. Nonetheless, it's not always easy to be so composed she says. The social media influencer has her moments too-somedays Kesley feels the prettiest, and on other days she is grounded by her insecurities. After all, she is a human too.
She stands tall to a height of 5 feet and 6 inches (1.68 meters).
Kelsey's Dating Life
Kelsey often answers the queries that her fans have regarding her life; be it a professional or a personal.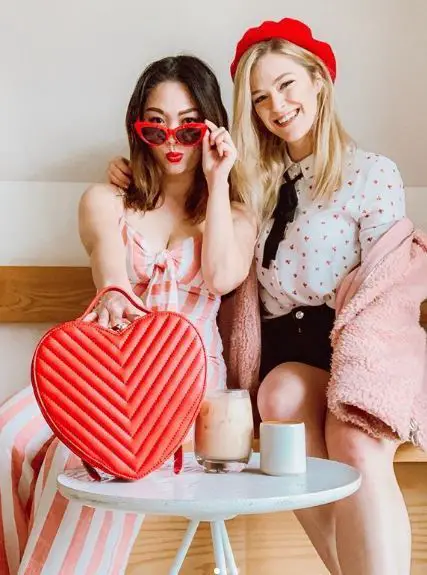 Kelsey Impicciche with her friend, Michelle Fang celebrating Valentine's day on 14 February 2019 (Photo: Kelsey Impicciche's Instagram)
Recently on her Q/A session on 26 November 2018, she revealed her relationship status. She openly admits about being single and not dating anyone- in many of her YouTube and BuzzFeed videos.
However, she is not closed off to seeing someone if they meet up to her expectations. And her fans needn't be worry because she is just waiting for the right one to step into her life.
Her Net Worth
Kelsey graduated from Loyola Marymount University with a degree in Theatre Arts. Furthermore, she studied in the British American Drama Academy. She trained with her acting coach Joseph Pearlman.
Today, she is a member of the improv team, What's Her Face Comedy.
Kelsey has an impressive fan following and subscribers in her YouTube channel and BuzzFeed. She produces content for BuzzFeed, and they are mostly hilarious failures, about her nerdy knowledge, Shakespeare, and movie quotes.
More From Youtube Star: What Is Jacksepticeye Real Name? Girlfriend, Dating, Family, Net Worth
She is equally active on her self-titled YouTube channel where she vlogs weekly. She went viral for her Dangerous At Any Speed weekly vlogs, earning an instant massive recognition.
YouTube pays her an estimated $4.8K - $77.4K yearly, not to mention the average of $60 that the BuzzFeed pays her. At the age of 27, she already earns quite a healthy amount of assets adding up to her evergrowing net worth.