Who had imagined that a simple music cover would make an eight-year-old an overnight superstar? But, it did: all credit to the super cute yet applauding voice of Sophia Grace, she became a headline in the entertainment world at the young age of eight. 
Unknown of the fact that she would be showered with opportunities, Sophia's aunt took a video of Sophia singing the Nicki Minaj's song Super Bass along with her cousin Rosie McClelland. And, without taking a second she uploaded it on YouTube. 
To their surprise, the cover became viral and amassed over 53 million viewers; catapulting Sophia into the prominent height of stardom. 
Sophia Grace's Parents, Heights, Age
As per her wiki, she was born as Sophia Grace Brownlee in 2003 in Essex, England. She celebrates her birthday every 18th April. Moreover, she shares an adorable bond with her parents: father Dominic Brownlee and mother, Carly Brownlee. Her father is an entrepreneur, writer, and music consultant. 
Sophia's parents have also gifted her with a sister named Belle Milliana Brownlee.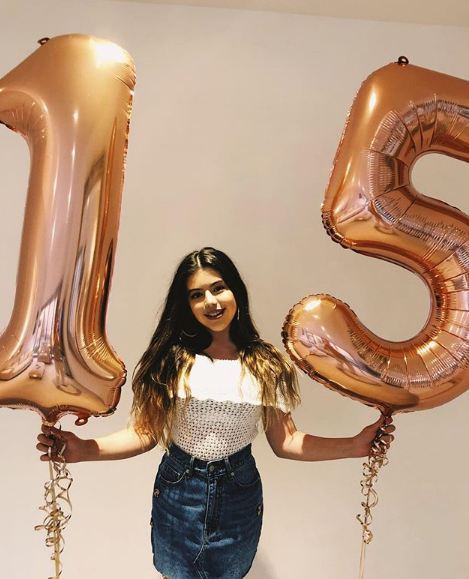 Sophia Grace celebrates her 15th birthday on 19 April 2018 (Photo: Sophia Grace's Instagram)
When Sophia came into the limelight, she was just eight years old. But as the time has passed now, she has stepped into her teenage: she is at the age of 15. On top of that, the growing lady has already touched the height of 5 Feet and 1 inch (1.54m.) And, her weight is estimated to be 43 kg (95lbs).
Also Read: Acacia Brinley Age 21 New Baby; From Pregnant To Tattoo, Height & Facts
Despite having fame from a young age, Sophia has a down-to-earth-personality. As per her parents, she's not as outgoing as people assume her to be. She enjoys attention only while on stage; she prefers to stay away from all the attention at her hometown. 
Rise To Fame
Other than the viral video, what drafted Sophia to stardom was her appearance in the famous The Ellen DeGeneres Show in October 2011. When Ellen found out the video of cute Sophia and her best friend-like-cousin, she could not stop but invite Sophia's family to her show. 
Appreciating the offer, the Brownlee family attended the program, and Sophia even met Nicki Minaj in person. Her presence in the show was so appreciated that the sisters started making regular appearances on The Ellen DeGeneres Show. Interestingly, they also got their own segment for their show titled Tea Time with Sophia Grace & Rosie. 
In 2012, Sophie and Rosie won the 2012 Teen Choice Awards for "Choice Web Star" and featured in the sitcom Sam & Cat, their movie, Sophia Grace & Rosie's Royal Adventure and many more. 
Net Worth, Best Friends 
Sophia's YouTube account, now, has more than 3.1 million subscribers. And, with luck on her pockets and talents on her hand, she has transformed her identity from just a social media star to British singer and actress.
Discover: What Is DWTS Juniors' Addison Osta Smith Age? Parents, Siblings, Bio
In 2013, she debuted her solo single "Girls Just Gotta Have Fun" followed by the "Best Friends" in 2015. Her song Best Friends charted in the Billboard Hot 100. She released her third single titled "Girl In The Mirror" with rapper Silento on 9 June 2016.
After, two years of break, Sophie dropped her new music video Can't Sleep on 7 December 2018. At a young age of 15, she has already amassed success and net worth that makes her family proud. She perfectly balances her education and her career.