While some recognize Acacia Briney as an actress, others know her as a prominent YouTuber. But, the main thing that separates her from the crowd is her role in the American band Watercolor.
The multi-faceted personality was born on 22 October 1997. Acacia was raised and brought up in her hometown Massachusetts, United States of America, by her lovely parents, Melissa Clark, and Richard Clark, who let her do the thing she was most passionate about.
Don't Miss: Paris Berelc Boyfriend: Who Is She Dating? Parents, Age, Height
Acacia holds American nationality and belongs to white ethnicity. Besides her parents, Acacia has three siblings in her family: two elder brothers, Peyton Clark, and Keegan Clark, and a younger sister, Maelia, who was adopted at the age of 2.
Acacia Brinley Pregnant, Baby Bliss!
Acacia Brinley, packed with awesome clothing and makeup sense, is having one heck of a good time with her husband Jairus Joseph Kersey now, but she achieved this priceless moment only after enduring pain from many failed relationships.
First thing first, Acacia, age 21, was linked with Michael Clifford. After the relationship failed, Acacia began dating Sam Pottorff circa 2012. However, again her relationship went in vain after the pair broke up; followed by an awkward fight over Twitter. Then for facing the heartbreak again, Acacia went on to date the guitarist of Crown: The Empire band, Benn Suede.
Nevertheless, a warm sun brightened in Acacia's life after she met her husband, Jairus Kersey, the lead singer of Alive Like Me. The married couple has two beautiful daughters, Brinley and RoseMary, in their family.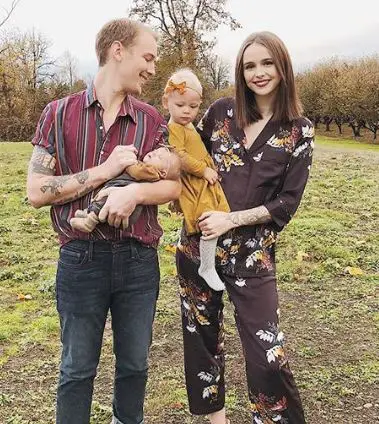 Acacia Brinley Kersey flaunts the photo of her beautiful family on 23 November 2018 (Photo: Acacia Brinley Kersey's Instagram)
The couple welcomed their first baby daughter on 15 May 2017. At the time, the couple was not married. But as Acacia got pregnant with a second baby, the duo went to the altar and tied the wedding knots on 21 April 2018. Later, Acacia begot a baby daughter on 3 September 2018.
Fun Facts Of Acacia Brinley, Tattoos
Apart from being known as a band member of Watercolor, Acacia has also mustered some handful of recognition for her YouTube channel. Since its inception on 1 June 2008, Acacia's YouTube channel "acaciacutie" has been growing enormously. And even the subscriber's number has raised close to 1 million.
For You: Perrie Edwards Wiki Reveals: Boyfriend & Dating Status At Age 25
Some of the credit to her growing popularity in YouTube also goes to the beauty she possesses. Her height of 5 feet 9 inches (1.75 meters) and dark brown hair can drive any man crazy. Acacia's beauty is further accentuated by the tattoos on her body. Just so you know, one of her arms is filled with the picture of a heart and bunches of flowers. She also got tattoos of a crown, a crescent and a text.