Kelly Jo Bates is the matriarch of UpTv's reality family, Bringing Up Bates.
Together with her husband, Gilvin Bates, and their expensive brood of nineteen kids, the Bates family has been the subjects of interests among the TV audiences since they featured on a 2012's United Bates of America. 
After much appreciation and love, they returned with the new venture, Bringing Up Bates. The series debuted on 1 January 2015 while the seventh season aired successfully in January 2018. 
Kelly, the lady of the mega-household almost all her life has got a lot on her plate. However, with time, her supersized family is getting smaller with several children out of the house, be it for pursuing their career or starting families of their own.
Now, with her youngest one on his ninth year, Kelly and her hubby are left with a much smaller tribe to look after. 
Kelly Jo Bates's Bio: Sisters & Parents
Kelly, age 52, was born as the youngest child to her late father, Kenneth H. Callaham, and her 75-year-old mother, Betty Jo Smith, on 26 October 1966 in the United States. 
More From Bates Family: Carlin Bates Bio, Wedding, Net Worth, Family
Besides Kelly, her parents had three kids, Chip Callaham, Kay Mount, and Kim Adkins. Due to some undisclosed reason, Chip saw to his final days in 2012.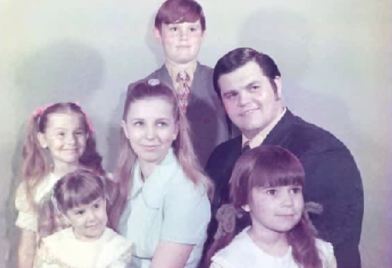 Kelly Jo Bates is the one sitting on the lap of her mother, as she poses for the family portrait alongside her parents and siblings (Photo: tumblr.com)
Kelly remained the baby of the family for quite a long time for her siblings had been married and had kids, and some even had grandchildren.
Kelly seems to get along with her sisters well even today. Besides her immediate sisters, she has some stepsisters as well. 
At some point during Kelly's childhood, her parents divorced while they remained on friendly terms for their entire life. 
Betty remarried and had three children from her second marriage. Besides, together with her husband, she adopted two more children, Beth Miller, and Rebekah Miller, providing Kelly with a bunch of sisters. 
Wedding Details With Husband
Kelly started her college at Anderson University, where she met the love of her life, Gilvin Bates.
Gilvin noticed the beautiful Kelly right away while she took her time. It was only when Gil needed help with his science and Kelly happened to be a lab assistant, that she began noticing him.
The pair began dating, and both of them got themselves transferred to Carson-Newman College.
With 1987 came the marriage proposal from Gil while on 19 December 1987 they exchanged their wedding vows.
Continue Reading: Janet Roach Wiki, Age, Birthday, Husband, Son, Net Worth
Initially, the married couple had no plans of starting a family at least for the first five years. Nonetheless, a month after their wedding, Kelly got pregnant, and their life changed unexpectedly, with a whole bunch of kids on their way.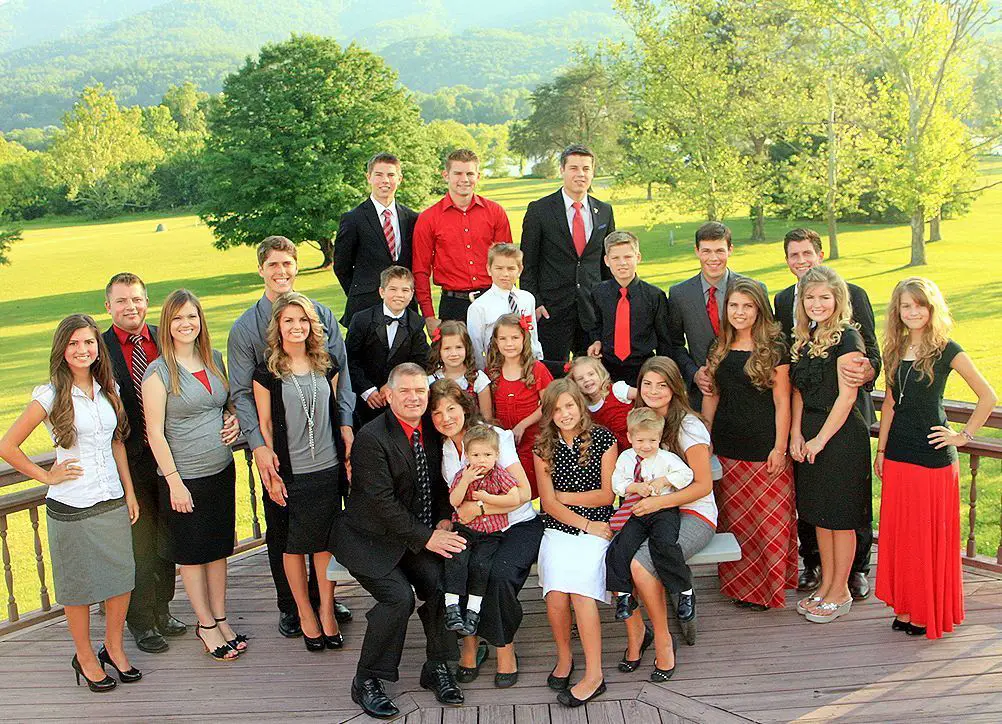 Kelly Jo Bates and Gil Bates with posing for their mega-family picture (Photo: tumblr.com)
Meanwhile, how the Bates support their household, has been a question frequently asked by the people, ever since they began their TV career.
Gil's family tree-cutting business used to be the sole source of the Bates' family income. But today, things sure have changed with their ever-growing prominence and reality show's big success.
However, the family net worth remains under the wraps.