Carlin Bates is one of the members of the famous and biggest reality-shows ever seen on the television. Together with her family, Carlin starred on the series, Bringing Up Bates.
Carlin, the UpTv star, is the ninth kid of the Bates brood. She and her eighteen siblings appear alongside her parents on the reality television show.
Besides her reality television career, Carlin has often showcased her musical talents as well. She is a talented yodeler and instrumentalist who plays perfect piano and violin.
Carlin's Engaged Status With Evan Stewart
Having been on TV since 2015, Carlin is bound to make her personal life a public affair, as she has massive followers hooting up on her love-life.
Carlin started dating Evan Stewart, her now-husband in September 2016. Carlin's sister, Erin, the matchmaker in the family set them up over a family dinner after their first encounter in Evan's family church.
Evan happened to be one of the servers for the conference, and she happened to be in the fellowship hall studying for her midterms.
More From Reality-TV Show: Janet Roach Wiki, Age, Birthday, Husband, Son, Net Worth
Soon, his character, his humility and humor, his values and love for the Lord, and all in all his kind soul, enticed Carlin to fall for him.
During a romantic trip to Portland, Maine, on a specific day in September 2018, Evan got down on one knee and put on the engagement ring on his angel as she gave him a big 'Yes!' 
Carlin melted over the unanticipated surprise as she got engaged to the love of her life at the Portland Head Lighthouse.
Wedding & Married Life
The big day in Carlin's life took place even more magically on 25 May 2019. The year has been hectic for Carlin. The big moments like receiving graduation and getting married all happened in one go at an early age of 21 was overwhelming.
Carlin exchanged her wedding vows with Evan at Castleton Farms in Loudon, Tennessee, their friends and family witnessing their joyous moment. 
The love-birds would remember their wedding date for the rest of the days as they move on with their life.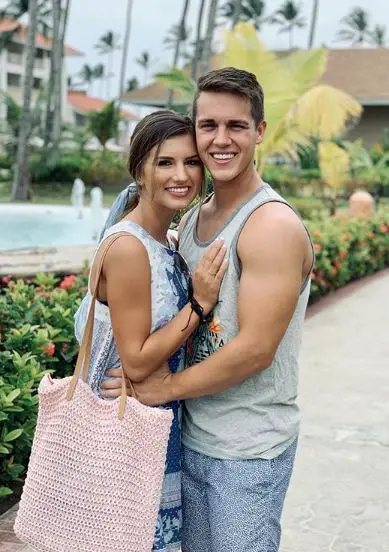 Carlin Bates enjoying her post-marital life with her husband Evan Stewart on 30 May 2019 (Photo: Evan Stewart's Instagram)
The newly married couple are set to lead their life in their little new home in East Tennessee after returning from their honeymoon at the Majestic Mirage Punta Cana resort, a heavenly place for lovers.
Keep Reading: Jules Wainstein Wiki, Net Worth, Married, Divorce, Age, Birthday
They have often provided their fans and well-wishers the peek into their life. 
Carlin Bates Bio, Age
Carlin Bates was born on 11 April 1998 in Tennessee. The native of America never remembers one dull moment growing up in their unusually sizeable family.
Her nine brothers, Zachary, Lawson, Nathan, Trace, Jackson, Warden, Isaiah, Judson, Jeb, and nine sisters, namely- Michaella, Erin, Alyssa, Tori, Josie, Katie, Addallee, Ellie, Callie-Anna, had an inexplicably unusual upbringing than any other conventional families.
Her father, Gilvin Bates, owns a tree-cutting service as an additional income to his family's' reality TV income and net worth.
During the year of 2012, the Bates family also started their family church.