Kayla Braxton joined NXT broadcast team in 2016 where she mastered a variety of roles including mediating locker-room showdowns while interviewing superstars and hosting NXT Live Events. 
Before working for NXT, Kayla hosted her entertainment segment on WESH 2 News in Orlando, Florida. She even participated in public speaking competitions, and at the age of 17, Kayla spoke in front of President George W. Bush at the White House. 
Furthermore, Kayla Braxton has not revealed her actual salary. But it is known that the average salary of a WWE Announcer is estimated at around $103K. So, there's no doubt that the host has accumulated a decent amount of net worth through her career. 
Kayla Braxton Wiki, Age & Family
Knowing about her early life, at the age of 9, Kayla and her younger sister were separated from her biological family as their mother was unable to take care of them.
At the time, Kayla went through a burst of emotions; she was angry, hurt, confused, terrified, and heartbroken. 
Also A TV Personality: Sue Herera Salary, Net Worth, Husband, Family
She remembers watching her mother in the distance as she and her sister ride away with their new foster family; a feeling that she still finds it hard to explain. She was too young to understand the depth of the situation.
But as time passed, Kayla realized she was placed in the most incredible family with the most incredible parents and new siblings.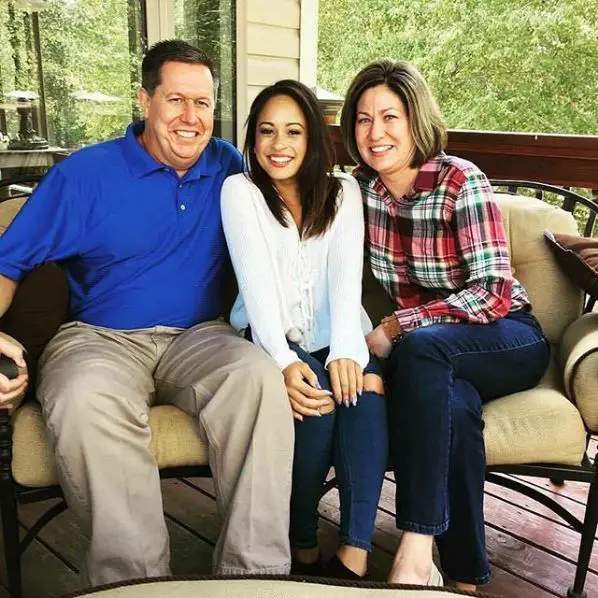 Kayla Braxton with her foster family on 18 April 2018 (Photo: Kayla Braxton's Instagram)
Being a part of her new adoptive family, Kayla was able to develop her first passion for public speaking and got the opportunity to enhance that passion by joining top college. She graduated with a degree in Broadcast Journalism from Belmont University and then worked for the career of her dreams.
After sorting out bundles of emotions bubbled up inside her for years, Kayla Braxton proudly calls herself the daughter of her two loving mothers (biological and foster) and feels lucky to have both of them in her life.
Born in 1991 in Wadley, Alabama, Kayla Braxton celebrates her birthday on 7 June every year. To maintain flattering body measurements based on her average height of 5 feet (1.52 meters), Kayla watches out for her diet to maintain her weight.
She embraces the mixed ethnicity of black and white, which she found out a little later than most people would. Many attacked her ethnicity and called her with different names like white bread, sticky white, mutt, and even mixed breed.
But Kayla voiced out against the unnecessary backlash of ignorant people and sent a message out in hopes to help others with a similar background.
Married To Husband / Boyfriend?
Kayla signed a contract with one of her best friends when she was ten years old that men were gross and they would never get married. 
See Also: Chelsea Briggs Wiki, Age, Boyfriend
From there, both Kayla and her friend came a long way, as her friend got married to a husband who was not gross.
And although Kayla is not married and hasn't broken the contract yet, she has thought of getting a boyfriend.
And, the reason is fascinating and funny in some way. She wants a boyfriend not because opposite attracts or so, but because she wants to keep a pet dog. Her work often takes her to places and demands to hit the road, which doesn't give her much time to raise a pet.
And so, Kayla wants a boyfriend just so there's someone to take care of her dog if she ever plans to get one; another perk of having a boyfriend to raise a pet is she doesn't have to pay him.