Sue Herera is an American television reporter and anchor of financial journalism. Entitled with the tag, First Lady of the Wall Street, she was one of the first women to enter into the field of broadcast business news. 
The 61-year-old was born as Susan McMahon on 15 November 1957 in Spokane, Washington. She was raised by her parents in Brentwood, California. Her father was a shoe wholesaler while her mother was a housewife. She got her Bachelor's degree in Journalism from California State University in 1980.
Sue Herera's Career
Sue started her career as an intern at KNXT-TV station in Los Angeles, immediately after finishing her graduation in the year 1980.
After that, she reported business news and began anchoring in 1981; covering the highly technical futures industry for brand new Financial News Network. Continuing her job, she worked at the network for the eight years. In the process, she became well acquainted with foreign exchange and trading.
Due to her excellent skills, she was hired by General Electric's CEO, Jack Welch to be part of NBC. While working at NBC, CNBC got launched in the year 1989. Luckily, she became one of the founding members of CNBC.
Don't Miss: Terrell Brown Has Wife Or Partner? Married, Wedding, Family & More
Meanwhile, she was a lead anchor of the channel for breaking news stories. 
Afterward, she became the host for CNBC's prime time technology news show 'The Edge' from 1997 to 1999. Next, she hosted 'Business Center', a primetime show along with Ron Insana from 1999 to 2003.
In 2003, she launched 'Power Lunch', a business news program and successfully hosted it for the 12 years.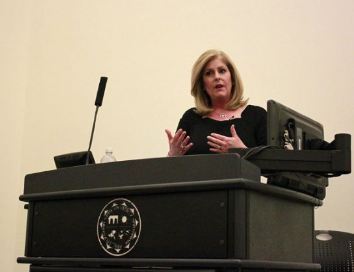 Sue Herrera gushes on her experience as a woman covering business news at the Kurland Lecture Hall on 28 February 2013 (photo: sundial.com) 
Sue's career achievements include much more than hosting business shows. She traveled to China and Japan to cover stories related to financial and economic successes of these countries. 
Besides being a news anchor, she is also an actress known for Wall Street: Money Never Sleeps(2010), Nubile Nuisance(2006), Nightly Business Report(1979). 
Sue Herera Salary (Networth)
With a career spanning on thirty-seven long years, Sue Herera has a successful career in her hand. Since her enrollment in CNBC, she has not looked back. She receives a hefty salary of $685K from CNBC; all credits to her excellency and popularity in the TV industry.
Related: Ernie Anastos Eternally Together With Wife | Salary, Net Worth, Now
As of now, her net worth figures out to be more than $8 million. 
Sue Herera Husband, Children
Well, Sue Herera is a married woman. Her husband Daniel Herera met her as a camera person during an assignment in Los Angeles. 
After the first meeting, the couple eventually got so close that they married in 1984. Their relationship nurtured with time, and blissfully, Daniel became a physician in 1999. 
Perhaps of their work priorities and professional commitments, the pair could only enjoy their parenthood after several years of their marriage. 
It was in the year 2004 when Sue gave birth to their twin daughters, Jacqueline and Victoria. Then after a year in 2005, Sue, with her husband, welcomed a baby boy, who completed their family.