Kate Gosselin is a former reality star who has achieved national and international recognition with the US reality TV shows, Jon & Kate Plus 8, Kate Plus 8, and Surviving Sextuplets and Twins. She appeared in the show with her then-husband, Jon Gosselin, and their children
Before making her television debut, Kate was a registered nurse at the Reading Hospital and Medical Center in Reading, Pennsylvania. She had also worked as a labor and delivery nurse in Wyomissing, Pennsylvania. 
Current Relationship Status
Kate is currently single and focusing on her career. She is also living her best life crossing her fingers that producers call her up for another season of a reality show. 
Boyfriend?
In 2015, Kate dated millionaire Jeff Prescott. Later, she denied dating him and stated that they were only rumors. 
However, Jeff faced the media and revealed that they had been dating for nearly two years and were serious about their relationship. 
Short Bio
Kate Gosselin, of German, Scottish, and English descent, was born in Philadelphia, Pennsylvania, on 28th March 1975 as Katie Irene Kreider.
Look For: Ashton Rowland Wiki: Facts On Age, Siblings, Dating Status
She is the third child amongst her siblings, Kendra, Christen, Clairissa, and Kevin, born to Charlene and Kenton Kreider. 
Life Before Singlehood 
Kate and Jon Gosselin were once a pretty good couple on and off the screen and were together for ten years between 1999 to 2009. 
The couple first met at a company picnic on 5th October 1997, and the rest is history. 
She had eight kids with her then-husband: twin girls, Cara Nicole and Madelyn 'Mady' Kate; sextuplets: sons Aaden Jonathan, Collin Thomas, and Joek; and daughters Alexis Faith, Hannah Joy, and Leah Hope.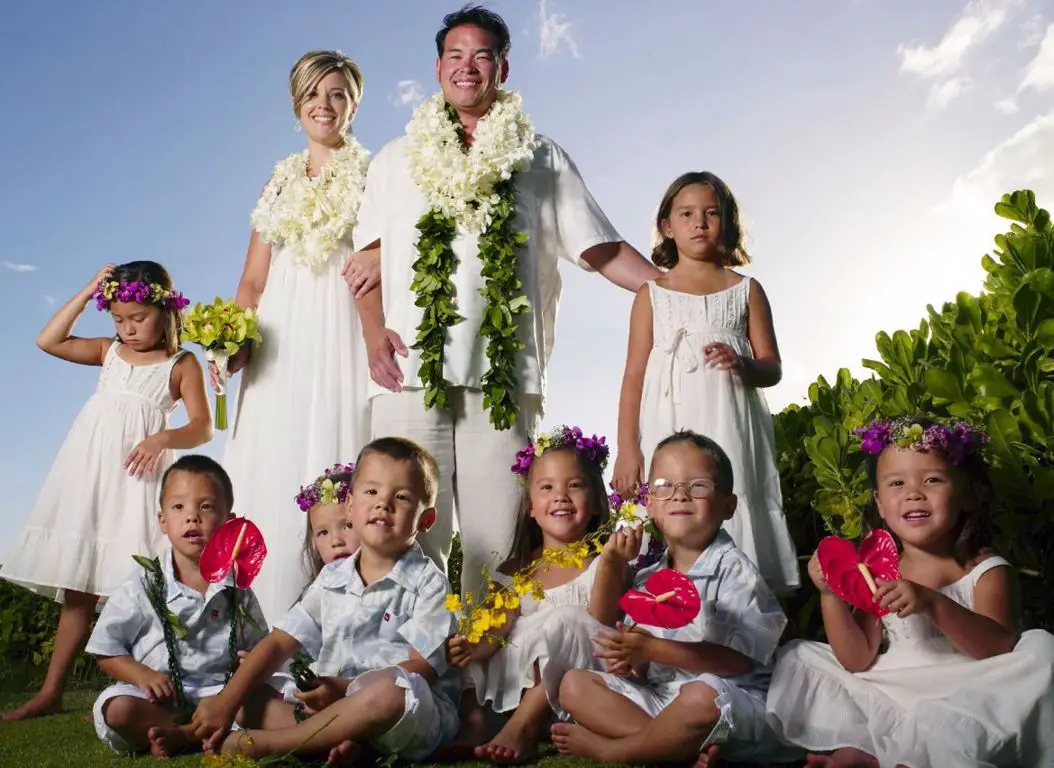 Kate Gosselin with her then-husband, Jon Gosselin, and eight kids (Photo: usmagazine.com)
Furthermore, the thing between Kate and Jon did not go well following their very messy and public divorce in 2009.
Messy Divorce
In June 2009, Kate and Jon announced that they were separating in an episode on cable network TLC.
After the announcement, in separate interviews, Kate and Jon stated that the show would continue; however, TLC doubted if the show was still viable due to their separation. 
The divorce was finalized on 18th December 2009, and Kate was granted the ownership of the family home and primary custody of the eight children.
Later, disputes broke between Jon and Kate; after one of their daughters, Hannah was taken to the orthodontist, which also led to an argument over who would be taking their daughter home. In the end, Hannah went home with Jon. 
Recommended: Nikki Fried Wiki: What's Her Married Status? Family, Salary
In August 2018, Jon revealed that their daughter Hannah permanently lived with him and that he was also fighting for an ongoing custody battle with Kate.
In April 2018, Jon won the custody of Hannah as well as wining physical and legal custody of Collin on 24th October 2018. 
While two of the children, Hannah and Collin, live with their father, the other six kids live with Kate. 
In August 2019, it was also revealed that Kate was not trying to win back custody of Hannah and Collin and made no attempt to speak with or see Collin.