Author Karen Avrich is best known for co-writing the book, Sasha and Emma: The Anarchist Odyssey of Alexander Berkman and Emma Goldman with her father, Paul Avrich. When her father was working on his 11th book, Sasha and Emma, he fell seriously ill and asked Karen to complete the book for him.
To fulfill her father wish, she finished the book and published it in 2012, garnering great success. Leading the success with the release of the book, she went on a media tour, describing and advertising the book that she co-wrote with her father.
Karen Avrich Bio, Age
Karen Avrich's bio reveals that she is one of the daughters of Paul and Ina Avrich. She spent most of her summer in Amsterdam alongside her sister and parents. As per her age, she has not revealed her birth year, but it is known that she belongs to American nationality.
More Interesting: Ruth Dudley Edwards Married, Husband, Family, Age, Net Worth
Her father Paul was a historian known primarily for his work in the early 20th-century anarchist movement in Russia and the United States. During his entire career, he taught at Queen College until 1999. Karen even mentioned that her father went to college at the age of 16 and became fluent in half a dozen languages and conversant in a half-dozen more. Her father wrote ten books which mostly talked about anarchism. Unfortunately, in 1990, her father became seriously ill and struggled from to regain his health. After a long battle with sickness, her father died at the age of 74 on 16 February 2006.
Married - Mark Halperin, Baby
Karen Avrich who stands at an average height is not married yet. However, she is enjoying a joyous love life with her longtime boyfriend, Mark Halperin. Her boyfriend Mark is a veteran journalist, who was accused of sexual harassment by five women in 2017. Those allegations were even corroborated by women who did not experience the harassment but were aware of it. Mark apologized and confessed to having relationships with women that worked with him. After the allegation was made, people started tweeting about the issue and former Governor of Alaska, Sarah Palin even slammed Halperin on the microblogging site.
Despite the major issue, Karen maintained her relationship with Mark. She is in a live-in relationship with him, shielding her personal life from the limelight. Moreover, the two even share a baby son together. Mark Halperin announced the birth of his baby boy, James Paul Halperin, on his Instagram account on 6 January 2017.
Exclusively: Writer Afua Hirsch Bio Reveals Parents, Married, Partner & Essential Details
The arrival of their son might also be a reason Karen and Mark are doing their best to maintain their crumbling relationship.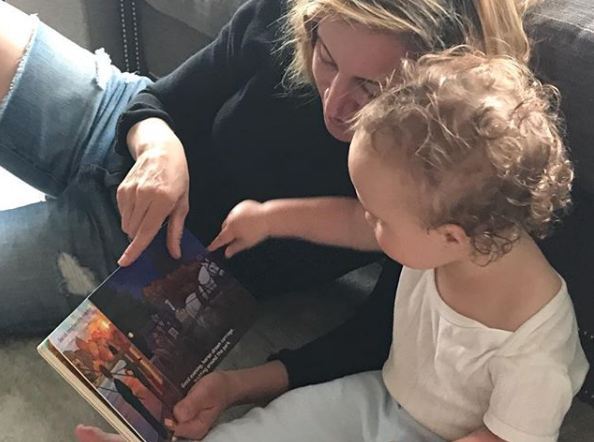 Karen Avrich enjoys mother-son time with her baby James on 7 May 2018 (Photo: Karen Avrich's Instagram)
The two seem to enjoy parenthood and Mark doesn't hesitate to share beautiful family photos on his Instagram. Karen's baby boy turned one in 2018; he has his own Instagram account. In his social media page, some of his most adorable moments are shared with the Instagram family.