British writer and broadcaster, Afua Hirsch is famously known for her book Brit(ish): On Race, Identity and Belonging. She worked as a journalist for The Guardian newspaper, and also had a stint as a  barrister.
While her professional achievements were transparent, Afua had kept her love life in the shaded for a long time previously. But, now it has come to the limelight that she is a married woman with child.
Married Life, Protects Daughter 
Afua is a married woman and shares a family of three that include her partner, Sam, and a daughter. Her husband, Sam hails from Tottenham, North London and is of Ghanaian Descent.
Don't Miss: Renee Chenault-Fattah Married, Divorce, Daughter, Fired, Net Worth, Now
The 37-year-old first met her partner and husband Sam while they were in their 20's pursuing a legal career. But the details of their dating and wedding remains confined till date.
Nevertheless, Afua is blessed with a daughter, who was born in 2011.
Although the writer has not disclosed the name of her daughter, her actions hint her love towards her little one. 
In an article for The Guardian, Afua talked about her seven years old daughter while gushing about the 2017's terror attack. She stated that her daughter was excited about her school's field trip to visit the Tower of London.
See Also: Lisa Berry Engaged-To-Get-Married! Age, Birthday, Family & Height Details
But Afua and other parents were concerned about their children's safety as terror rates were high at the time. So, the parents strongly opposed the field trip and canceled it. 
Afua's such act for the safety of her daughter reflects that she is parenting her daughter best. It would be pleasuring if she shared much of her family life with her followers. 
Afua Hirsch's Bio: Career
Afua Hirsch was born on 12 June 1981 in Stavanger, Norway to a British father and an Akan mother from Ghana. She was raised in Wimbledon, South London. Her family's history suggests that she has a Jewish bloodline as her paternal grandfather, Hans was a Jewish.
Afua enrolled in St Peter's College, Oxford, where she studied philosophy, politics, and economics. Soon after her graduation, with a Bachelor of Arts degree, Afua joined BPP Law School and took the Graduate Diploma in Law.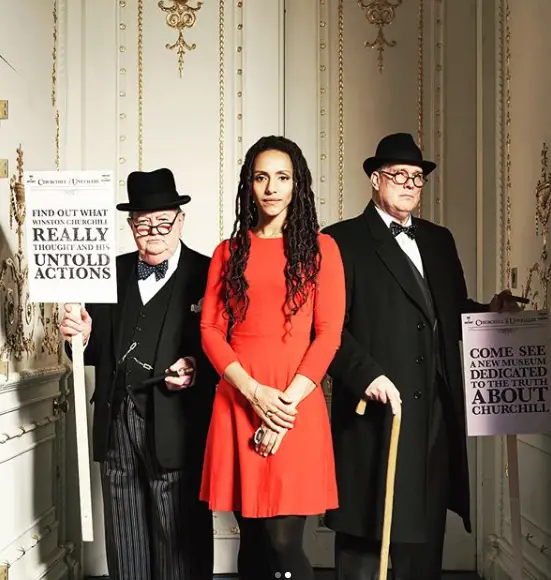 Afua Hirsch promotes her first hour-long documentary, The Battle For Britain's Heroes via Instagram on 28 May 2018 (Photo: Afua Hirsch's Instagram)
Afua started her career as a lawyer in criminal defense, public and international law. She worked for The Guardian as a legal correspondent and also The Guardian's West Africa correspondent based on Accra, Ghana. She was the Social Affairs and Education Editor at Sky News with Chris Kenny from the year 2014 to 2017.  
As Afua is of black ethnicity, she is quite aggressive when it comes to protecting the integrity of black people. In August 2017, she debated openly whether Nelson's Column Should remain in place, as Nelson opposed the abolitionist movement, and she believed that Nelson's Column signified white supremacy.
Some Facts About Afua Hirsch
Afua Hirsch is a British writer, who is known for The Battle for Britain's Heroes (2018), 10 O'Clock Live (2011) and Dispatches (1987).
In the television programme The Battle for Britain's Heroes, which was first broadcasted by Britain's Channel 4 in May 2018, Afua raised lesser-known aspects of the career of former British Prime Minister Winston Churchill, such as his attitude to Indians and advocacy of gassing "uncivilised tribes" in Mesopotamia after the First World War.
She has the keen interest in journalism, criminology and international development.
Afua's book Brit(ish): On Race, Identity and Belonging (ISBN 9781911214281) was published by Jonathan Cape in January 2018.