With a tag of a rich spoilt kid, Juliette Porter has taken the reality show, Siesta Key by storm. Being one of the recognizable cast members of the MTV show, her dating records with her costars Garrett Miller and Alex Kompothecras was never to be missed by the audience.
Juliette Porter Bio & Professional Career
The American Reality celebrates her birthday on July 7. She was born in the year 1997 that made her 20 years of age and was raised in the city of Florida where she attended Florida State University to complete her education. While the lady stands a decent stature, she has always made fun of her little height.
When you tune into the reality programs in the MTV Network, one cannot be unaware of the popular reality series, Siesta Key. Being one the lead cast member of the bunch of people that confront about love, breakup, betrayal, and adulthood, it is the same show that has made Juliette achieve such a keen fan following.
With more than 18 episodes altogether, the chemistry and love affair of Juliette and her co-star Alex Konpothecras on and off dating affairs was buzzing since day one.
Family Life, Mom's Nationality?
Juliette has always been skeptical about revealing her family background. While she has posted her mom's Nationality to be French, there are no details of her actual parents' name and profession. The 20-year-old is the youngest member of her family accompanied by her older brother, Colin Porter.
Juliette Porter Finds Love In The Reality Show
The reality star had to face a lot of criticism when she got reunited with her ex-boyfriend, Alex Kompothecras. Although the reality show itself becomes spicy, the cast members did not leave to add more spiciness to the show.
Juliette shared a brief dating spree with Garrett Miller, and the relationship fizzled soon before it got ignited correctly. But her affair with Alex did not fall into place rightly.
From abusing to the physical violence, the finale of the reality show got vulnerable when the couple involved in a feisty fight that left the lady in tears. Despite the heart-wrenching reality, we get to know that the pair have patched up after seeing multiple pictures shared by Juliette on her Instagram page.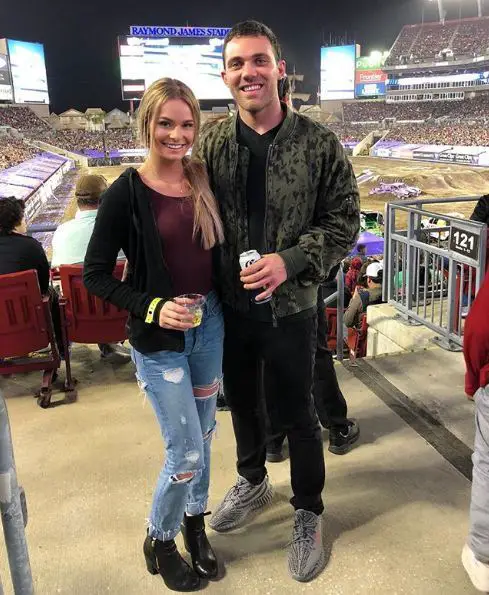 Juliette spends quality time with her partner, Alex Kompo on 7 February 2018 (Photo: Alex Kombo's Instagram)
The couple loves traveling, and after seeing the beautiful exotic getaway into the snowy Alps, we can entirely be sure that everything is okay in their relationship.
Know About: Luke Baines Wife, Partner, Gay, Family
Even though there have been plenty of ups and downs, the duo seems to appear to be back and stronger than ever before. 
Apparently, after the on-again, an off-again relationship the couple have split after Juliette found out about the Alex cheating. Her best friend's girlfriend shared some information which changed everything. She mentioned to Juliette that she overheard her boyfriend and Alex where Alex said about having sex with one of the girls 
During the last episode of the show when Juliette went to Alex house, she found another girl in his bed which broke her down. After which she tries to end the thing when Alex swears on his entire family and denies the cheating allegation. 
Moreover, after the ugly fight in her Twitter, she confirms that she is no more with Alex. Even though the tweet has figured out the two split anyway. But interestingly. She has not deleted the photos of her and Alex from her Instagram account. 
Nevertheless, whatever the issue she is facing now someday she might be happy with all the drama free life.
Juliette Asks Genuine Feedback On Her Relationship With Alex
One of the Twitter post shared by Juliette is very natural by the words. Since she had quite a history shared with her boyfriend Alex, she has urged people to share honest thoughts about the relationship with her partner.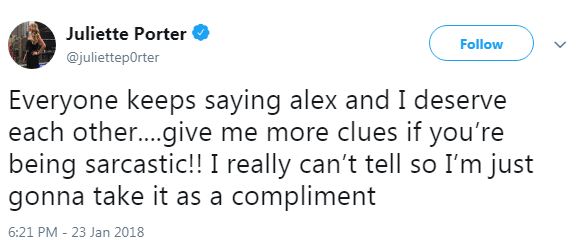 We can somehow relate to the post about her enormity in the bond that she shares with her man by taking real and sincere opinions as a compliment from the people.
Juliette New Romance 
It looks like the reality star has found her love in Florida. She broke the internet with gossip after she posted a picture of kissing a guy from Bachelor Nation's Robby Hayes. Her post made everyone question are they dating?
Interesting: Tyler Blackburn Girlfriend, Gay, Ethnicity, Parents
Well seems like she is dating Robby with whom she started hanging out only a month ago. When she hung out with the reality star Corey Brooks and Kelsey Owens at Stagecoach, Kelsey introduced her to Robby. After which the sparks between them started flying, and soon they often started hanging out. 
During a brief period, the pair got close and have already taken several trips together. Apart from the previous failed relationship, Juliette is working hard on her new relationship. 
Moreover, it was also announced the renewed for a third season of Siesta Key. She might be present in the show with her new partner to see how their relationship unfolds.