Jonathan Morris, a former Roman Catholic priest, came into the limelight as a religion correspondent on the Fox News Channel. He has also served for CNN and BBC during the death of Pope John Paul II.
In addition to that, he is also an author known for his New York Times' bestselling books such as The Way of Serenity, God Wants You Happy, and The Promise: God's Purpose and Plan for When Life Hurts.
Short Bio Plus

Age

Jonathan Morris was born on the 22nd of August 1972, in Cleveland, Ohio, USA. He attended high schools in Michigan and Ohio. Later, he got enrolled at the University of San Jose, Costa Rica, to study political science. Likewise, he studied business administration at the Franciscan University located in Steubenville, Ohio.
Read About This Singer: Rob Giles Married To Actress Wife: Children & More
Besides that, he has degrees in philosophy and theology.
Jonathan Morris' Dating Status, Now
In an interview with ncregister.com in 2014, Jonathan quoted that he had a girlfriend while he was studying at Franciscan University. Adding more, he shared a tragic love story confessing how his friend married his girlfriend while he was in the quest to becoming a priest. He spoke;
"My roommate was thinking of the priesthood, and I was impressed. It is such a big commitment. I invited him to a retreat to think about it. At the retreat, I started thinking about it myself. In the end, I became a priest, and my roommate married my girlfriend — although he asked my permission before he started dating her."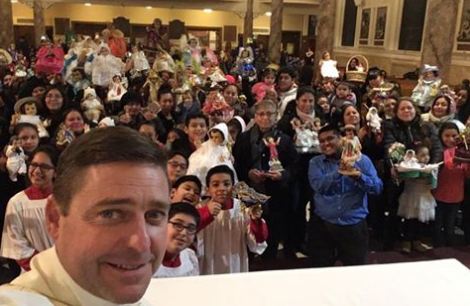 Jonathan Morris with his holy disciples, the image shared on 2 February 2017 (Photo: Jonathan's Facebook)
Nevertheless, as of 10 June 2019, it's known through cruxnow.com that Jonathan had decided to leave the priesthood. Also, he said, as a free man, he wants to get married and have a wonderful marriage.
Yet, again, he has not given any hints regarding his possible relationship.
Family Details- Gay Sister?
Son of an attorney father and a social worker mother, Sharon Morris Jonathan Morris has two older siblings and four younger siblings: among them, one is a girl. 
Have A Look: Nathaniel Arcand Married Status & Family Insight | Complete Bio
On a tweet of 7 May 2014, he revealed that his sister's sexuality isn't straight—she is married to a same-sex person in Washington, DC.
Some Interesting Facts About Jonathan Morris
Jonathan 

is very fluent in Spanish and Italian language.

He is a former Parochial vicar of St. Patrick's Old Cathedral in New York City.

He is a member of the Legion of Christ, a Catholic religious congregation.

He has played in the movie The Irishman (2019) and TV series such as The Real Story with Gretchen Carlson (2013), Lou Dobbs Tonight (2013-14), and Jesus: His Life (2019).
He had provided some theological guidance in the movie The Passion of the Christ.

He was promoted from religion correspondent to a Television analyst of Fox News Channel, and it's other branches.

He is a host plus program director of the News & Views program on The Catholic Channel.

In 2015, while he was on a gay pride parade in New York City, he was spat by two men.