Jodi Stewart is a TV personality with a keen sense of fashion who doubles up as a costume designer and was named Observer's most stylish woman in 2009.
Besides that Jodi Stewart's bio is also attached to a very famous person.
She is the wife of the famous Jamaican rapper Sean Paul. The couple has been married since 2012 and recently welcomed the new member in their family.
Welcomes First Child With Rapper Husband; Son Is Lead Singer
TV presenter Jodi and Jamaican rapper Sean exchanged the wedding vows in May 2012 after ten years of togetherness.
The rapper, known for his hit songs like Rockabye, Give it Up to Me, and Give It To You, revealed that they that the couple was expecting their first child in August 2016, telling that their lead singer would be arriving in February 2017.
Similarly, on 17 December 2016, Jodi shared an image of her belly bump with husband Sean on Instagram and captioned for the child she prayed; and the Lord had given her what she asked for.
Know More: Kendra Bailey Wiki, Age, Parents, Net Worth
Jodi and Sean became dotting parents when they welcomed their first child at the beginning of 2017. On 26 February 2017, the rapper announced the birth of his son.
Furthermore, on March 2017, the musician shared a picture of himself, his wife Jodi and their newborn baby son cuddled up in bed announcing the name of a baby that they had chosen 'Levi Blaze Henriques.'
Jodi's love and affection towards her husband and her child can be seen in social media as she often flaunts the pictures of her husband and her son.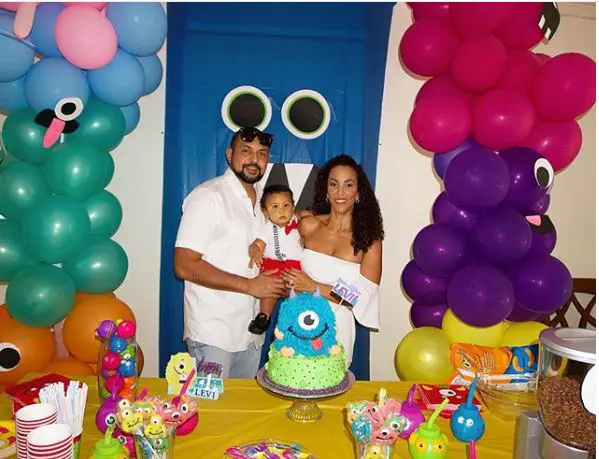 Jodi Stewart with her husband celebrating their son's birthday on 22 February (Photo: Jodi Stewart's Instagram)
Recently on 22 February 2018, Jodi shared a picture of her child, with her husband wishing her son a very happy first birthday through Instagram.
Back on 27th May 2015, Jodi also shared the picture of herself with his husband wishing him on their third marriage anniversary via Instagram.
In February 2019, Jodi, along with her husband announced her second pregnancy. Later during the 20th week of her pregnancy, Jodi flaunted her baby bump for a photo while her husband completed the frame.
Jodi and Sean were even happier about the fact that the parenthood experiance this time would vary than that of the first one. It was because the couple this time was having a baby girl.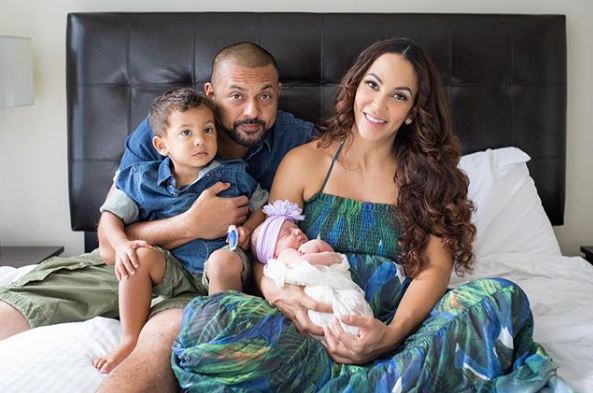 Jodi Stewart and husband Sean Paul pose with their children, Levi and Remi on 3 September 2019 (Photo: Sean Paul's Instagram)
Earlier in September this year, the dream of this beautiful couple finally came true as Jodi gave birth to a baby daughter, Remi Leigh Henriques.
Peek Into The Life Of: Lala Milan Boyfriend, Family, Net Worth, 2019
While the two are admiring a different ground of their parenthood, brother Levi also is also enjoying each moment with the new little one in the family.
The loved-up duo is madly in love with each other and the arrival of their children has completed the family.
From Teacher To Glamour: Jodi's Wiki / Bio
Jodi celebrates her birthday on 13th November every year and hails from the party island of Jamaica. She is a well-known Jamaican TV host that has been on the air for a long time.
Jodi started her career as VJ on reggae and had a number of hosting jobs in the music business.
Not only that, but she also worked a double shift as a model for men's magazines and appeared in music videos. Blessed with good looks and a tall height with a busty figure, she created waves in the modeling scene and made her a household name in Jamaica.
However, she was not born into glamour but started as an early childhood teacher.
Jodi opened up about her teaching experiences in March 2014 to Jamaican observer saying that her teaching years were the most fulfilling and prepared her to be a good mother. 
After teaching, she joined RETV and worked there for over a decade. An avid traveler, Jodi has been to 142 cities in 39 different countries across the globe and is happy to have chosen showbiz as that helped her with travels.