British quizzer and singer, Jenny Ryan's is famous as one of the Chasers on ITV's hit teatime quiz show The Chase (2016—2019). Also, she participated as a contestant in the hit TV show, The X Factor: Celebrity in 2019.
Her first quiz show appearance was on University Challenge in 2003, helping her University of Leeds to reach the semi-finals. Since then, she has appeared in several competitive shows, becoming one of the most popular quizzers in the UK. Some of her most notable works include quiz show, The Family Chase, which she appeared from 2017 to 2019, and Celebrity Masterchef as a contestant in 2019.
Jenny Ryan's Bio: Age
Jenny Ryan was born on 2nd April 1982 in Bolton, Lancashire, England, UK. 
Early Life & Family
Jenny Ryan grew up in a family of eager quizzers who sowed the seeds of quiz fantasy in her at an early age. 
Another Quiz Player: Paul Sinha Married, Wife, Gay, Partner, Net Worth, Bio, Parents
The quiz was like her family hobby. When all her family members gathered, they would watch the TV quiz program, University Challenge. Additionally, they used to play quiz even at family parties.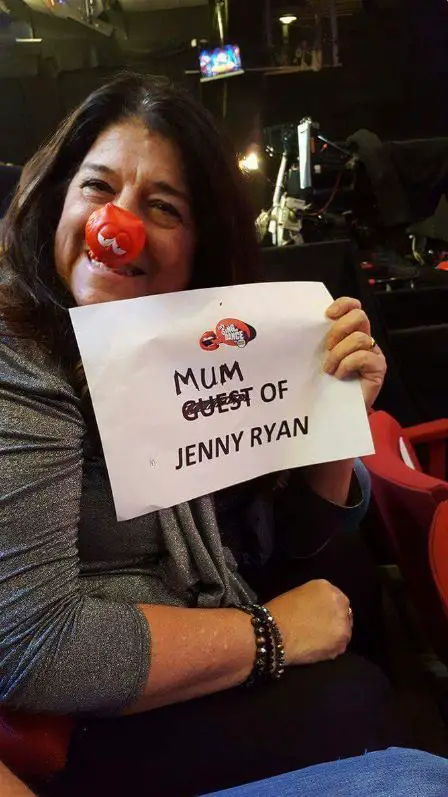 Jenny Ryan's mother on 25th March 2017 (Source: Jenny Ryan's Twitter)
At the school too, Jenny was counted as one of the brilliant students. Talking about her childhood with Mirror, Jenny said; 
"I'd always been the genius of the family. Teachers said I'd definitely go to a top university and could do anything, even be Prime Minister." 
However, during her late teens, she got diagnosed with depression after one day she felt that her brain had stopped working. From then, she began to face mental health issues.
Meet Jenny Ryan's Co-Cast: Anne Hegerty Wiki, Married, Husband, Children, Partner or Lesbian
Furthermore, one day while at her university, she had an urgent need to go home. She felt like she had a fishbowl on her head as if she wasn't part of the same world as everyone else. Later, she was told she could be depressed and could have an anxiety attack.
Nevertheless, to defeat her depression, she began to work out on her mental health and gradually learned to manage it.
Net Worth
According to the Celebrity Net Worth, Jenny Ryan has a net worth of $4 million.
Interesting Facts:
Jenny Ryan refers to her grandfather, Kevin Ryan, as a main inspiring idol in the quiz.

Talking about her memory capacity with The Bolton News, she said, "I have a memory like a sponge. I remember where I was when I was told something and who told me. I am very visual and contextual. I have a natural aptitude for remembering things that I have an interest in, but things I'm not fussed about are trickier to learn."

She initially thought of establishing a career as a barrister, but her mental health affected her studies. 

Her mentor, Nicole Scherzinger, coaches her to have more confidence on stage.

She was nicknamed 'Vixen' because of her fox-like cunning persona.   

On 28th June 2016's tweet, she talked about her boyfriend, citing that she was dating someone back then.