British-Asian comedian, broadcaster, and quiz player, Paul Sinha didn't get the fear hold him down when he finally publicized his sexual preference in 2017—in fact, he admitted that he never hid it!
The ITV quizzer made a jaw-dropping announcement on one of the episodes of the British quiz show, The Chase, which compelled his fans to shake with a surprise.
The revelation came when show's host Bradley Walsh asked him a question,
In what well-known racing video game are bananas and turtles thrown?
Paul incorrectly guessed the answer to be 'Grand Theft Auto'—only to mention why he got the question wrong. Explaining the situation, he stated,
My ex used to play Mario Kart all the time... he also said I never paid attention to him.
Following his statement, the Twitter account exploded with the fans' comments asking for clarification of Paul's revelation. Surprised by the reaction, Paul explained that he never hid his sexual preference to the public.
Paul Reveals Engaged To Partner!
After coming out of the closet in 2017, Paul expressed concealed feelings in one of the most personal interviews, where he revealed of being in a relationship with his boyfriend.
As published in The Sun, Sinha enlightened the advantage of being gay to have no traditional template for how to engage with the same-sex partner.
Furthermore, he added that he was in an open relationship with his partner, and opposed speaking more than that.
Interesting: Pete Nelson Married, Wife, Daughter, Bio, Age, Height, Net Worth
Speaking more about his sexual revelation, Paul claimed that he had made lots of references to being gay during his long-haul stint on The Chase; however, none of his words made the editing room.
Besides putting out the identity of his mysterious boyfriend in public, Paul was spotted wishing him on the occasion of Valentine's Day.
Paul sarcastically thanked his boyfriend for buying him an expensive 'Blondie memorabilia' as Valentine's gift via his tweet on 14 February 2018.
After putting the identity of his partner a secret for many years, Paul happened to reveal his partner's name as Oliver in one of his interviews for Pink News.
The name was obviously a significant factor for Paul's fans and followers, but a greater revelation was on the way, which they had no idea about.
At the beginning of 2019, Paul unveiled that he proposed his boyfriend and got back a "Yes" in the result.
The exposure ended up as the flow of congratulatory messages for Paul.
No doubt, the man won't step back from sharing about his further life stories with his partner.
Thus, his fans are assured of the fact that the marriage ceremony of Paul and his fiance will have them equally involved as a significant portion of Paul's career.
Paul's Twitter Filled With 'Married' Jokes!
Given his career as a stand-up comedian, Paul Sinha often fills up his Twitter with married and wife jokes.
One such instance was on 25th May 2016 when Paul tweeted that his parents would never stop the celebration if he ever gets married to an Indian princess.
Sorry parents, your son prefers male over a female!
Know About Comedian: Ricky Berwick Wiki, Age, Disability, Medical Condition, Mom, Girlfriend
Besides, replying to the tweet posted by Meera Syal regarding 1970's wife on 28th March 2017, he stated that his wife was a long way away from being a 1970's version--another piece of comedy from the talented comedian!
What Is Paul Sinha's Net Worth?
Starting up as a stand-up comedian to presenting radio shows, Paul Sinha calmly uplifted his professionalism to the great height.
He made a name for himself presenting various shows, including The News Quiz, The Now Show, 28 Acts in 28 Minutes, on BBC Radio 4. Besides, he presented The Sinha Games on the network which was about the Olympic Games.
Subsequently, Sinha joined ITV quiz series The Chase, with the nickname "The Sinnerman." English TV quiz personality Anne Solway Hegerty became the Chaser in 2010 and has been serving on the Australian version of the show since 2015.
Appearing as one of the Chasers along with British television personality, Jenny Ryan, Paul went through the whole show without getting a question wrong in 2016.
As a comedian and TV personality, Paul summons a healthy earning, which boosts his already lucrative net worth.
In general, the average salary of a stand-up comedian touches the figure of $20K. Besides, the lifetime earning is expected to dwell above $700K. Given Paul's dedication, he certainly bags the income close to the estimated amount.
Apart from that, Sinha's average salary at ITV is expected to swirl around £34K. 
Paul Sinha's Bio
Paul Sinha, age 49, was born as Supriya Kumar Sinha on 28 May 1970, in Luton, Bedfordshire, to Bengali parents. Standing tall at the decent height, Paul carries British nationality and possesses British-Asian ethnicity.
Though keeping his parents' identity off the hook on social media, Paul frequently mentions them on his social media status—mostly with a joke!
One such instance was on 21 May 2016 when Paul, through his Twitter status, stated that his parents stayed in the UK because of the Sausages, which India didn't offer.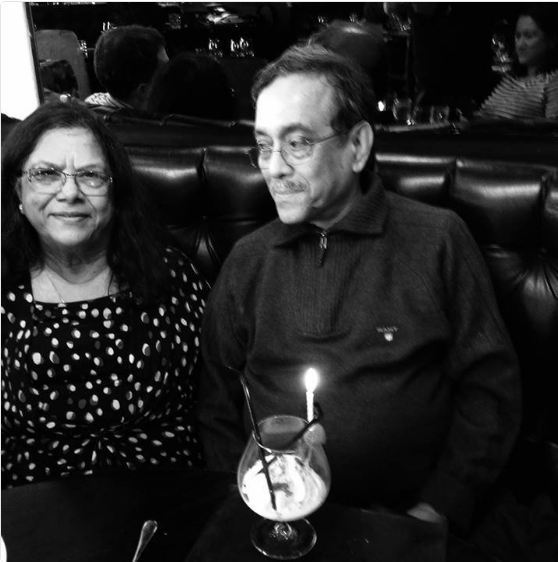 Paul Sinha flaunts family love with parents' photo on 5 July 2018 (Photo: Paul Sinha's Twitter)
Besides, he tweeted the picture of his parents on 5 July 2018 captioning that the NHS England rescued his dad from a ventricular fibrillation cardiac arrest 28 years ago.
Explore: Cyn Santana Age, Net Worth, Nationality, Ethnicity, Wiki, Boyfriend
As of his academics, Paul joined Dulwich College and St George's Hospital Medical School.
Health- A Matter of Concern for Paul
ITV's show, The Fast Fix: Diabetes became the platform to experiment on Paul Sinha, who is more or less concerned about his health.
The show is about finding whether weight loss controls blood sugar or not.
For that, Sinha's body is an excellent control for the experiment as he had the previous experience of managing his body. Whenever he misbehaved, he gained weight, and whenever he behaved well, he lost weight.
The show aired on May 2018 for which, Paul tried to maintain his body posture for over two or three months.
Also in the mid-June 2019, Paul revealed that he was diagnosed with Parkinson's disease. Paul further mentioned that he would fight the disease out until his last breath.
Paul's followers were shocked by the revelation that Paul made through his interview for BBC. Paul also made clear that he would be providing his fans with the follow-ups regarding the disease.
Hopefully, Paul's fight against the disease ends up with a successful result and the man gets back to his healthy form soon.