The plane-crash incident of the Miracle on the Hudson was made into the big-budget biopic, Sully (2016), featuring captain Sully's heroics during the rushed plane landing. However, it wouldn't have been possible without his other four crew members, especially American piolet Jeff Skiles, his co-pilot, who was equally responsible for the miracle.
Together with the collective efforts, they safely guided the plane to a safe landing on the Hudson River, miraculously rescuing the life of all 155 passengers and crews themselves.
Jeff Skiles' Background, Family & Wife
Jeff Skiles grew up in a family of aviators. His father, James, was a Professor of Electrical Engineering at the University of Wisconsin in Madison and mother, Deloris gave birth to three boys, Jeffery being the youngest. His parents owned a single-engined plane that they often flew from their home to as far as Alaska. They even took Jeffery with them on a transcontinental flight. 
The son of two pilots started flying at the age of 16. He took some time off from college to fly cargo planes out of Omaha, Nebraska, and then returned to Madison to complete his bachelor's degree in Geology.
Similar: Amelia Rose Earhart Wiki, Birthday, Married, Husband, Boyfriend, Height
As for now, Jeff is married to his wife Barbara Skiles with three teenage children. He currently resides in Madison, Wisconsin. Despite the occasional risk brought about by his profession, Barbara has been a loving and supportive life partner. She has praised her husband's heroic acts and also mentioned it was quite a struggle for him to cope up with the stress after the incident.
Career / Net Worth As Pilot
After facing the worst aviation challenge of his career on 15 January 2009, Jeff served as a vice president of the Coalition of Airline Pilots Association, urging for the betterment of airline safety and security to make flying safer for pilots. He retired from his flying career after he was named Vice President of Chapters and Youth Organizations for the EAA.
With more than 30 years of experience as a U.S. Airways pilot, Jeff couldn't enjoy his retirement days. So, he eventually left the EAA to fly international flights for American Airlines.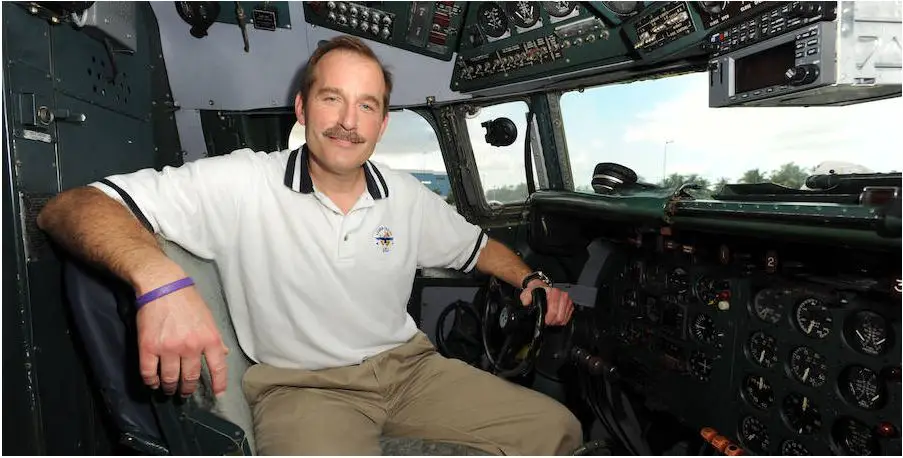 At The Workplace: Jeff Skiles Posing in the cockpit of a 1958 DC7 on 17 November 2011 in Miami, Florida (Photo: allthatsinteresting.com)
Currently, Jeff has been giving speeches on different platforms based on his roles on Miracle on the Hudson, making anywhere from $10K to $20for each speech. With the contributions Jeff has made, there's no doubt that he carries a net worth of millions.
You Might Like This: Adrian Wojnarowski Age, Married, Wife, Family, Salary, Net Worth, Bio
In addition to this, Jeff has also been writing a monthly column for Sport Aviation Magazine since 2011 and has appeared in Air Emergency (2003), Late Show with David Letterman (1993) and Untamed & Uncut (2008).