Jan Pol is a Dutch personality who has served more than 45 years of his life in the field of veterinary—has more than 23,000 clients. He received immense limelight after starring in the Nat Geo WILD's number one hit series, The Incredible Dr. Pol. He became the cast member of the show back in 2011, and as of 2019, he has made his appearance in more than 150 episodes of the show.
Apart from that, he is also an author of the best-selling book named NEVER TURN YOUR BACK ON AN ANGUS COW: My Life as a Country Vet (published on August 14, 2014).
Short Bio & Age
Hailing from the suburbs of Nederlands, Jan Pol was born on 4th September 1942.
A TV Producer: Todd Tucker [Kandi Buruss's Husband] Net Worth & Personal Life
For his education, he got enrolled at the Utrecht University Veterinary program and graduated in 1970.
Jan Pol's Family: Wife Plus Children
Jan Pol is in a marital bond with his long-time wife, Diane Pol.
They first met each other at Mayville High School in 1961. Later, they fell in love and started to date. Following some brief years of dating, the duo shared the wedding vows in 1971. Afterward, they moved to Harbor Beach, Michigan, before finally settling down in Weidman, Michigan.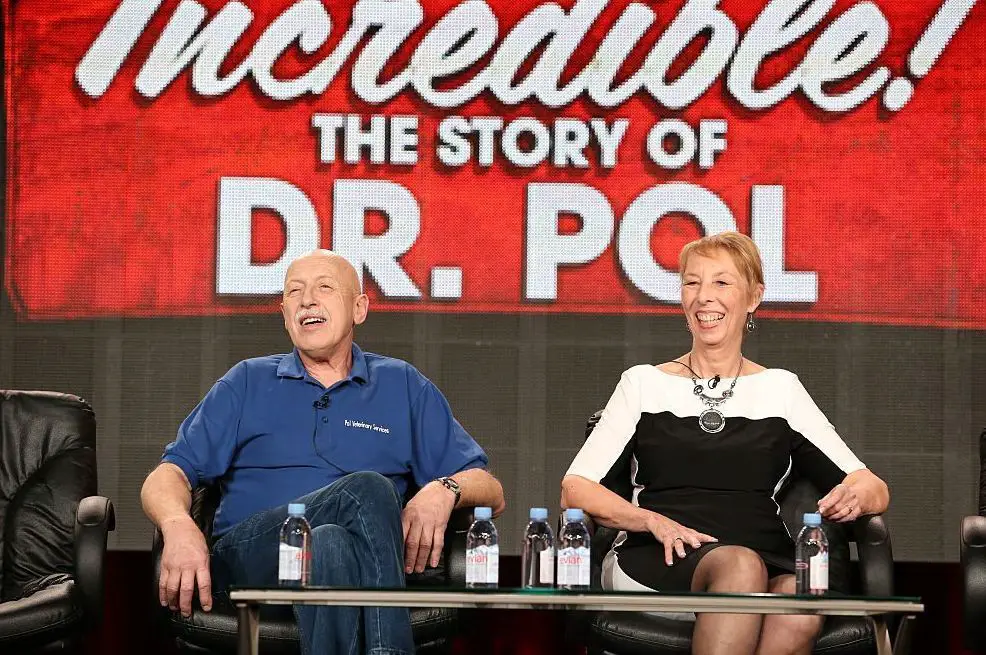 Jan Pol with his wife, Diane Pol in 2020 (Photo: gettyimages.com)
Though Jan and Diane don't have any biological children, they have adopted three children—Kathlene, Charles, and Diane.
Their daughter Kathlene was married to Gregory Butch and had two children, Adam and Rachel Butch. Unfortunately, Kathlene lost both her husband, Gregory as well as her son, Adam (d. 2019). The reason behind Gregory's death was cancer, whereas the reason behind Adam's death is kept private by the Pol family.
Furthermore, Jan and Diane's son Charles is married to Beth Pol and has a daughter named Abigail Pol.
Career In The Entertainment Industry
Jan Pol neither fantasized of entering into the entertainment industry nor having a career in acting. His main profession always was as a vet. However, his skill and talent in the field of veterinary took him towards the television shows.
An Author-Public Speaker: Serita Jakes Wiki, Children, Education & Facts Of T. D. Jakes' Wife
In 2011, he played as a DVM / Veterinarian in his first TV Series documentary, The Incredible Dr. Pol. The success of the show made a path for him to play in other shows also. After that, he starred as a Dierenarts in the 2015's TV series, Jinek, and as a DVM in the popular TV Series documentary, Calling Dr. Pol (2015-16). Later, he also appeared in shows such as WGN Morning News (2017-18), Nightcap with Dr. Pol (2018), and Home & Family (2018).
Interesting Facts About Jan Pol
Jan Pol can speak four different languages fluently—English, Dutch, German and French.

In his free time, he likes to spend time with his wife, scuba dive in the Caribbean, and travel across Europe.

He loves to watch football and supports the Dutch national team.

In his published book, he has described some of his amusing and incredible tales of his career.

In his veterinary, his patients range from snakes and cows to 2,600-pound horses.

In 1981, Jan and his wife, Diane, opened the Pol Veterinary Service practice in the rural Weidman, Michigan.