Stock market expert Gregory Mannarino, currently known as 'The Robin Hood of Wall Street,' is extensively recognized for his insights and market-researched capital markets analysis. 
He accomplishes these through his videos uploaded on his YouTube channel that has peaked at 180 thousand subscribers as of 2021. 
Gregory Mannarino, The Robin Hood of Wall Street
The stork market has always been a thrilling and equally risky business engaging countless populations daily. But not all those involved in the game are an expert like Gregory Mannarino.
To begin with, Mannarino's fascination with stocks and trades raised immensely at the age of 22, being influenced by the movie Wall Street. 
As a result of the influence, he pursued a career in the stock market and secured an entry-level position. Slowly, Mannarino made his way up to the trading floor at the now-defunct securities and trading firm, Bear Sterns.   
Mannarino currently shares his insights on the stock market analysis and business through his prominent online platforms to educate common traders and investors on safe trading.
His intense research on market analysis has brought him to such a level of brilliance throughout the years that he is often referred to as 'The Robin Hood of Wall Street.'
His Prominence on YouTube
As the internet boomed, Mannarino also leveled up his game and dived into the crypto-currencies analysis. And, his involvement in various online platforms has significantly boosted his exposure as a stock expert.
His prominent social platform is YouTube, where he uploads his stock-related videos regularly. The name of his channel is Gregory Mannarino which he started back in 2011.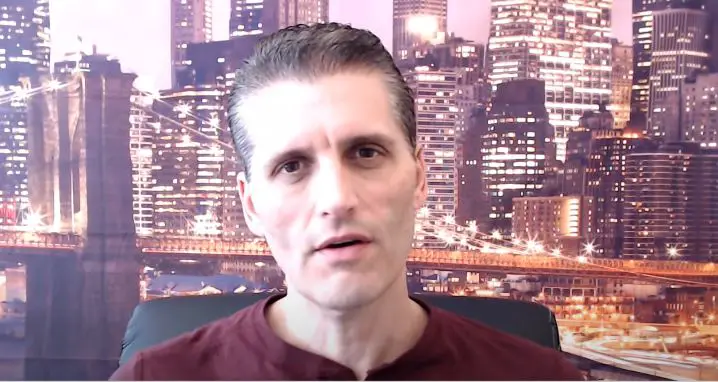 Gregory Mannarino sharing his trading market insights on his YouTube channel. (Source: YouTube)
Learn about the YouTuber - Gab Smolders & Her Boyfriend's Love Oozes All Over Social Media
With over 51 million views on all of his videos combined, the financial analyst has amassed one hundred and eighty thousand subscribers to this date. 
Besides helping thousands of people through his insightful and analytical capital market videos on YouTube, he uses his website, Traders Choice, to provide even broader analysis and tools for market understanding. 
Gregory Mannarino's Expertise and Net Worth
Mannarino's expertise, however, is not limited to Wall Street. He is also a medical degree holder who practiced medicine as a physician assistant back in 1996. He later served as a lieutenant at the United States Naval Reserve Medical Service Corps after officially retiring from the practice.
Moreover, the Wagner College graduate, who has explored a wide range of vocations, is an author of The Politics of Money and Gregorian Strategy for Multiple Deck Blackjack. 
Recognized for his versatile market knowledge, the full-time stock trader was interviewed by some renowned interviewers such as Greg Hunter, Alex Jones, etc. 
Having had an impressive knowledge of stocks, no wonder the Las Vegas resident is entitled to a hefty net worth from his stock investments. Besides, his YouTube channel also adds to his yearly income in the range of 4.1 thousand to 66.2 thousand dollars per Social Blade analytics.
More on - Naptural85 Opens Up About Her Divorce From Her Decade-Long Husband