Former model Gena O'Kelley widely rose to stardom after her marriage with a multifaceted personality, Chuck Norris. He is an American martial artist, actor, producer and screenwriter.
Apart from being a husband and wife, they are more of a business partner and best friend for each other. Her husband, Chunk has been very supportive throughout her life as he has left his career to concentrate on her wife's health issue.
Gena O'Kelley's Short Bio, Net Worth
Gena O'Kelley has been successful in maintaining her low-key status. The exact details of her birthday and birth year are still confined to media. As per wiki, she holds American nationality and belongs to white ethnicity. As seen in her photos, she stands tall at a decent height. However, the exact details of her height and weight are missing.
Enjoy Reading: Alexis Zotos Age, Wedding, Husband
Talking about her net worth, Gena has not revealed about her earnings but accounting her husband's net worth; Chuck has been listed the top ten highest paid actors for 2018 with an estimated of 70 million dollars. They both sold their Dallas house at $1.2 million in 2016.
Health Issues Faced by Gena O'Kelley
Recently in 2017, Chuck filed a lawsuit against medical device manufacturers alleging a chemical used in MRI scans poisoned his wife, Kelley. It caused her weak, body pain and burning sensation.
Doctors had used injection before MRI to find a better scan to check for arthritis, however, in case of Gena that led to Gadolinium infection. Gadolinium is a metal found in contrast agent used in MRI's.
Well, there wasn't any proof that it was because of the chemical, but Kelley fell ill after 3 of the shots in 8 days. She said
"[It was] as if acid had been passed through it. The burning was isolated at first, but it just kept spreading.
After that, she became desperately ill visiting the hospital several times a week. She got suffered from excruciating rib pain, breathing difficulties, full-body tremors, muscle weakness, and joint pain.
In an interview with the express magazine on 7 November 2017, Chuck revealed that he left his career to keep his wife alive. He said
"I've given up my film career to concentrate on Gena, my whole life right now is about keeping her alive. I believe this issue is so important"
Though her health condition has significantly improved, she still suffers from burning nerve pain and kidney problems. Her husband supported her throughout her illness and even gave up his film career to look after her.
Gena O'Kelley's Personal Life
Gena O'kelley is currently enjoying her married life with American martial artist Chuck Norris who is 23 years older than her. Carlos Ray Norris (Chuck Norris) is the son of Wilma and Ray Norris. His father used to be a World War II army soldier, a mechanic, bus driver, and truck driver.
When he turned sixteen his parents divorced, and he stayed with his mother and brothers at Torrance, California. He was nonathletic, shy, and scholastically mediocre but gradually became understanding and started pursuing his career. He was once part of commercial of Toyota, but later he got replaced by Truck Norris. 
Chuck was previously married to his classmate Dianne Kay Holechek following his divorce in 1989. 
Later they met each other in the year of 1997, and after knowing each other for a year, they decided to exchange their wedding vows on 28 November 1998, ten years after Chuck and his wife got divorced. 
More From Married Divorce: KXAS-TV David Finfrock Bio, Wife, Family, Salary
Whereas with Gena, Chuck is blessed with twin brother and sister named Dakota Alan Norris, a boy and a daughter, Danielle Kelly Norris on 30 August 2001.
Back on 14 August 2017, Chuck uploaded a family picture with a caption the couple had a great time in Dana Point with their daughter-in-law and grandkids.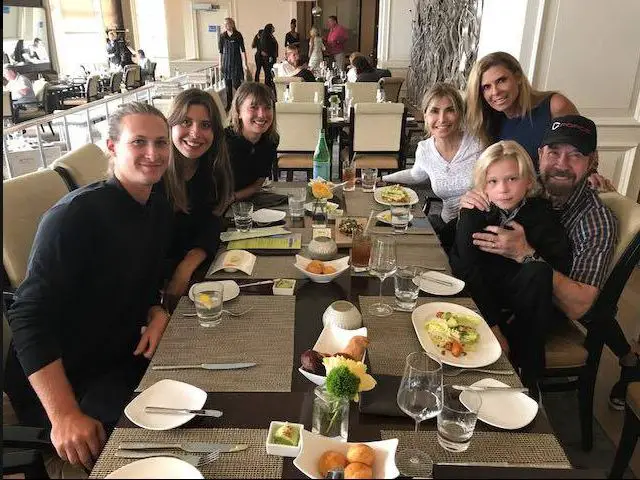 Gena and Chuck enjoying their family time at Dana Point posted on 14 August 2017 (Photo: Chuck Norri's Facebook)
The partner has been in a married relationship for twenty years and is still enjoying their togetherness. Since Gena has a very good relationship with her family, she has done an excellent job by keeping her married life so strong to date.
However, she has kept herself away from the media and stayed inactive in her social media Facebook since 2017. Her reason for being inactive might be the reason that she is trying to protect her family away from the press. However, her husband is still active in his social accounts.
Gena has been relishing her married life with her husband for 22 years and still, her bond is going strong.