Francesca Hetfield is a former costume designer for the heavy metal band, Metallica. Francesca who was just an ordinary person living a normal life rose into fame after getting linked to the lead singer of Metallica, James Hetfield.
Francesca Hetfield Biography
Francesca Hetfield was born on 27 January 1970 according to her biography. Born in Rosaria, Argentina, her nationality is Argentinean and her birth name is Francesca Tomasi. Now of age 48, Francesca attended the Overland High School located in Colorado. Her height and other details on her early life are unknown. 
Francesca Hetfield's net worth is unknown. However, she shares her husband's substantial net worth. Her husband, world-renowned guitarist, and vocalist, James Hetfield has garnered a net worth of $300 million.
Peek Inside: Trevor Penick Biography: Age, Married Status Amid Gay Rumors
James Hetfield, Wedding
Francesca started her career as an ordinary costume designer, but she wasn't aware of what fate had to bring. Francesca met James Hetfield while she was designing the costumes for the world's most influential American band, Metallica. James at that time was a guitarist, singer, and songwriter for the group. After meeting each other, the spark between them couldn't be denied which led them to start dating in 1992.
The couple made it longer than people expected. After being genuinely in love for almost five years, Francesca and James decided to tie the knots. Their wedding took place on 17 August 1997. A year later, Francesca and her husband welcomed their first child, Cali Tee Hetfield on 13 June 1998. Wishing for another bundle of happiness in their lives, Francesca and James had another child, Castor Virgil Hetfield on 18 May 2000. They also welcomed their youngest daughter Marcella Francesca Hetfield on 17 January 2002. Francesca and James renewed their vows on 2004 after seven years of married life. The happy family of five resides in Vail, Colorado.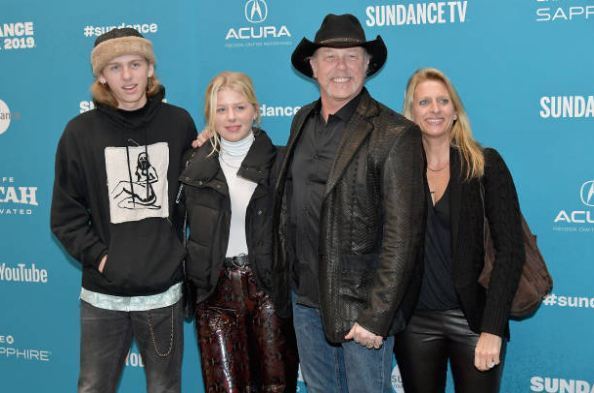 Francesa Hetfield attends the 'Extremely Wicked, Shockingly Evil And Vile' Premiere in 2019 Sundance Film Festival at Eccles Center Theatre with husband James Hetfield and children, Castor Hetfield, and Marcella Hetfield on 26 January 2019 (Photo: gettyimages)
However, their married life wasn't always rainbows and cupcakes. James faced a great deal of suffering due to his anger issues and alcohol addiction. He said in one interview, how grateful he was for his wife sticking by his side even during the darkest times. He also revealed how Francesca kicked him out of the house for being an alcoholic saying only therapy wouldn't help him.
Don't Miss: Perrie Edwards Wiki Reveals: Boyfriend & Dating Status At Age 25
James being devoted to his family got frightened that he would lose them which eventually led him to quit. James added how fear was an excellent motivator as he had abandonment issues; he has had one family that disintegrated (his parents got divorced, and mother died due to cancer) and he didn't want another one to fall apart too. James also said how he and Francesca went through more complicated things but only came out stronger. If that wasn't enough, the singer confessed that the moment he met her, James knew she was brought to help him get out of the hell hole.
As of now Francesca and James are living a happy married life with their children.