Trevor Penick is a renowned American singer, songwriter, actor, and producer. He is a member of the band O-Town, where he plays alongside Erik-Michael Estrada, Dan Miller, Jacob Underwood, and, previously, Ashley Parker Angel.
Trevor Penick O-Town / Net Worth
Trevor loved singing since he was young. His love for singing led him to join the MTV reality show, Making the Band. Since the weekly series was started to form a boy band, Trevor made it to the final lineup and entered O-Town. Trevor was in the group with four other members, Ashley Parker Angel, Erik-Michael Estrada, Dan Miller, and Jacob Underwood.
O-Town, who was signed to J Records released their hit single 'Liquid Dreams.' The group released their first album named "O-town" which sold more than 1,000,000 copies. The album also got platinum-certified.
Peek Inside: Perrie Edwards Wiki Reveals: Boyfriend & Dating Status At Age 25
The group released their second album, O2 in 2002, which didn't do much well like their last album but still managed to get into Billboard 100. Just after their 15-minute fame, O-Town was compelled to disband due to various financial issues, contract issues, and dishonest management in 2003.
After the members went different ways, Trevor got signed as a solo artist to Mach 1 Music. He released his first single called Hold On in 2001. O-Town came back for a reunion in 2011 after a decade of disbandment (Ashley Parker declined). They released their album Lines&Circles.
Along with group activities, Trevor in 2011, started his career as an actor by appearing in AKA Private. It wasn't long before he appeared in Killing Lazarus in 2015. He also produced the movie, Chasing Sunshine in 2018.
Trevor has made loads of fortune with his successful career, but the amount of net worth he has garnered is still under the covers. 
Biography, Age & Parents
Trevor was born to an African-American family on 16 November 1979 as Trevor Lee Scott Penick. His parents are Doris Evelyn (Hutchinson) and Clifton E. Penick. While his father is African-American, his mother is English-Scottish. His biography reveals that he has three sisters, Vanessa, Traci, and Rani.
Don't Miss: Reece Bibby Wiki: Dating Girlfriend At Age 20? Height, Parents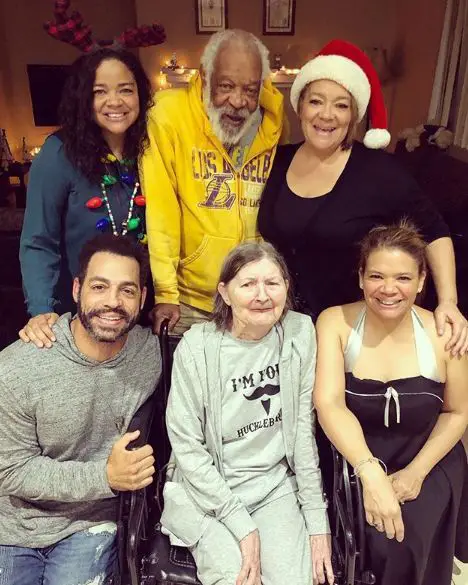 Trevor Penick enjoys Christmas with his family on 26 December 2018 (Photo: Trevor Penick's Instagram)
He studied at Rancho Cucamonga High School in his hometown, San Bernardino, California. After completing his high school education, he joined The California State University at Fullerton and graduated with a Bachelor's degree. Now of age 39, Trevor stands tall at the height of 6 feet (1.82 meters).
Trevor Penick Married Or Gay
There isn't much information on Trevor Penick's personal life. He is single as of now and doesn't post much about his love life on social media.
Since Trevor seems to be single even at the age of 39, people wonder if he is secretly married. If that wasn't enough, people also speculate that he is gay since he isn't under headlines for his romantic life. Since Trevor hasn't stated anything about being gay, things have remained more confusing. One thing's for sure; the actor does not seem to be getting married any time soon.