Public and media attention comes to a certain someone in a great many ways. And, since it has forever been a trend of media and public to turn its eyes to the dating or married status of the celebrated figure, even their significant other is drawn to the spotlight.
In a similar spot is Eve Schiff, who landed on an uncalled for fame because of her husband, Adam Schiff, the ranking Democrat on the House Intelligence Committee: heading the Democrats' investigation into impeachment proceedings against President Donald Trump.
Eve and her politician-husband are incredibly close. Let's delve a bit deeper into how it began in the first place!
Life As Adam Schiff's Wife
Met on a tennis court in Marina del Rey in 1990 and five years later on the 10th of February 1995, Eve was married to Adam.
Look For Politician: Ross Cameron Married Status With Wife: Family, Salary, Net Worth - Personal Life Insight
And, today they have to young ones, a daughter Alexa Marion (born in July 1998) who they call 'Lexi' and a boy named Elijah Harris (born in July 2002), adding-up to their happily-ever-after.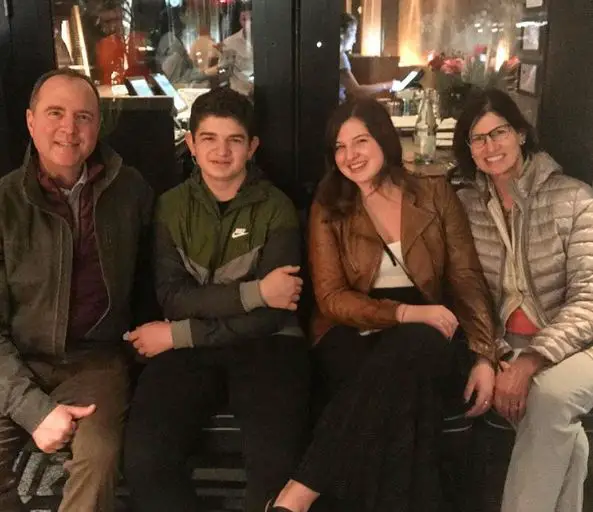 Eve Schiff, her husband, Adam Schiff's and their children, Alexa Marion and Elijah Harris on 12 May 2019 (Photo: Adam Schiff's Instagram)
Adam, who makes sure to share some of the scoops of his married life in social media, still remembers the shirt he wore on their first date nearly 27 years ago.
Unapologetically lovey-dovey, the Schiffs moved to D.C. from California because they resented the lengthy absences that kept them distant.
Eve was into volunteer while the family lived in California, and now, even after relocating to D.C., she continues it, and now that they are together, the whole process is even more exciting.
Eve Schiff's Bio (Age): Maiden Name, Parents
Eve, before she replaced her maiden name with her husband's surname, was referred to as Eve Sanderson.
Get To Know: Inside Chris Kenny's Married Life With Wife: Family, Salary, Job At Sky News & More
Born Catholic, there never really has been the much mentioning of her parents.
Her mother, Marion Sanderson, who passed a decade ago, was an artist, a "beautiful person, a real sweetheart; a fantastic mother-in-law," according to her son-in-law, Adam.
Net Worth
Eve played tennis for most of her youth, and like many other mothers, she lost contact with her career for quite a while as she started having kids.
Then, a good six years later, she picked it up again, her love for tennis. And, today, as a working woman, she makes her family even more proud of her.
Her famous husband can not help but gush about her gorgeous partner's attributes- "She's great. She's a good role model for me".
Inspiring one another to do the better in life, Eve and Adam together share a net worth, reportedly valued at $1.74 million.
The figure is 63 percent more than the average member of Congress and 104 percent more than the average representative: making him the 146th wealthiest person in the House.