Being born to a celebrity parent, Emily Trebek was fated to be surrounded by the media and tabloid gossips. Despite keeping it low-key, she cannot stop from becoming a topic of public interests. 
Emily Trebek shares her daughter-father bonding with none other than Alex Trebek, the popular host of the long-running game show, Jeopardy. 
Emily, unlike her father, Alex Trebek's showbiz career, chose to pursue a different path. The LA-based celebrity kid currently works as a real estate investor, flipping abandoned properties and turning them into something paradise-alike. 
As Alex Trebek's Daughter
Alex never got tired of talking about his love for house fixing during the taping of his phenomenal show. In the like manner, his daughter, without him realizing picked up on his interest in fixing things and flipping houses. 
Continue The Read: Melissa Lewkowicz Bio, Age, Husband, Family
The father-daughter duo even shares their choice of formal education. Alex graduated with a degree in Philosophy from the University of Ottawa, while his little angel received a bachelor's degree in Psychology and Philosophy from Loyola Marymount University.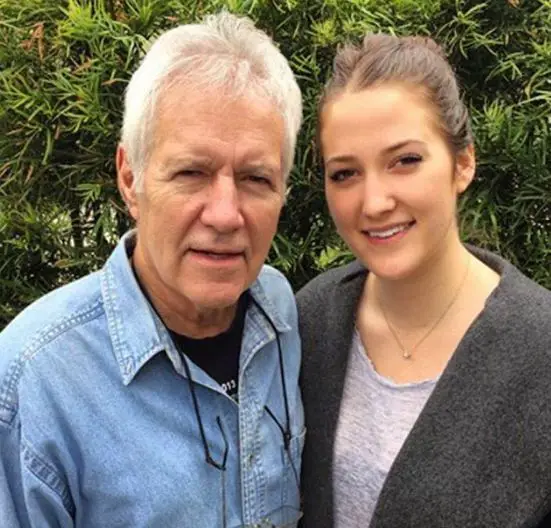 Emily Trebek with her beloved father, Alex Trebek (Photo: heavy.com)
In a particular day in March 2019, Alex saddened his loyal audiences with the news of him being diagnosed with Stage IV pancreatic cancer.
In an attempt to lighten up the grave moment, he added that he planned to beat the low survival rate statistics of the disease with the help of his family and loved one's prayers.
Emily Trebek Bio: Family Background & Net Worth
In January 2019, Emily was reported to be of age 27. Meanwhile, the detailed specifics to her height, weight, and date of birth, are not disclosed as like her famous father's. However, some part of her family background is laid open in public as per her father's fame and accomplishments.
Emily was born and raised in Southern California as the youngest one in the family. She grew up with her brother, Matthew, who owns the North Harlem Mexican restaurant called Oso, and maintains her relationship with her sister, Nicky, though not biological.
Her father has been blissfully married to her mother, Jean Currivan Trebek, for over 29 years now. The Trebeks are proud of the due diligence the kids have shown in their respective endeavors.
Meanwhile, talking of Emily's ventures, the local expert of almost everywhere in Los Angeles, who knows the ins and outs deals has been buying and selling properties numerous times. She is experienced enough to address the complications in her line of work with patience and confidence.
While the figures to her net worth remain undisclosed, her father gallantly flaunts a net worth of $50 million.
Married To Boyfriend?
Emily is happily dedicated to a relationship with her boyfriend. While her Instagram remains inaccessible for the outsiders, her Facebook history reveals her love interest.
Her secluded private life has left her fans and followers to wonder if she is married to a husband. However, so far, there are not any clues hinted to that direction. The nameless guy though, must have made up his mind to make her his bride someday.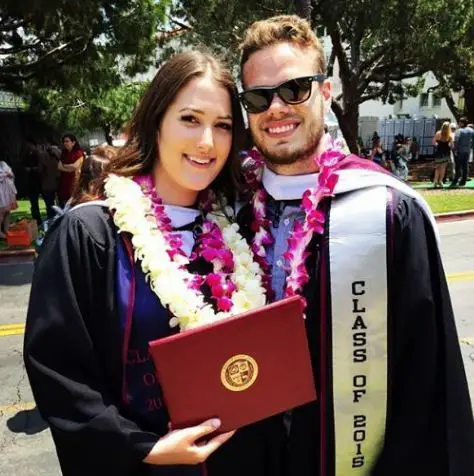 Emily Trebek with her boyfriend on their graduation day on 10 May 2015 (Photo: Emily Trebek's Facebook)
The pair graduated together from college on 10 May 2015 and posed together in their academic dress and not to miss a big smile.