Popularly known as Liz, Elizabeth Johnston is one of the members of the famous TV family of Johnstons who appear on the TLC reality show, 7 Little Johnstons. Elizabeth is the most hardworking among all the little ones in her family.
As taught by their mother, Elizabeth, and all her siblings believe in the power of their dreams and do not take themselves lesser than anyone. Elizabeth's mother is a house maker who encourages the whole family by giving them life lessons to keep working hard just like any ordinary people.
Inspired by her mother, Elizabeth has always kept herself motivated, to work in the company of average looking people as well. She also forwarded her interest to date the ordinary looking guys, which was approved by her parents later on.
In the beginning, they made her understand the consequences of her decision, but as at that point of time they liked the guy she was with, they supported her decision. 
However, Elizabeth had her first break-up with that guy, but her parents' support led her to come up stronger. As a result, Elizabeth has again chosen a guy for herself, but her parents' proper review on their relationship is yet to come. Besides, their family Instagram page has posted the pictures of their prom date. 
Check Out: Karina Seabrook Bio, Parents, Siblings, Nationality
As of now, Elizabeth is a happy little dwarf who is busy with her Esty shop, apart from her school and studies. 
Elizabeth Johnston Bio: Age, Parents
Elizabeth Johnston celebrates her birthday on 7 December every year. The Georgia born reality TV star is at the age of 17. She is the 2nd biological daughter of her parents Trent and Amber Johnston and is often referred to as the "social butterfly" of their family.
Elizabeth's family is the world's largest and most famous family living with achondroplasia. They are a family of 7 (parents and their five children-2 biological and three adopted), all living with the most common form of dwarfism. 
Elizabeth's mother Amber and father Trent stand at the height of 4 feet (1.21 meters) and, 4 feet 3 inches (1.31 meters) respectively. After they gave birth to Elizabeth and her elder sister, they decided to extend the family more, which resulted in them adopting their other three children from those countries where babies with dwarfism were abandoned. 
Elizabeth Johnston Dating New Boyfriend?
Elizabeth was previously in a relationship with her longtime friend James Burdette who dumped her in 2018 after dating for several months.
Elizabeth's parents even stepped in to take away her phone so that she could heal after her heartbreak. They wanted Elizabeth to take her time to think whether she would still prefer dating average sized men.
However, Elizabeth was quick to decide her new date, early after her break-up. 
See Also: Chris Pfaff Bio: From Wife, Girlfriend To Net Worth | All Revealed
She introduced her new boyfriend Brice Bolden to her fans during the end of March 2019. She posted a picture of Brice's prom-posal to her followed by the images of their prom date.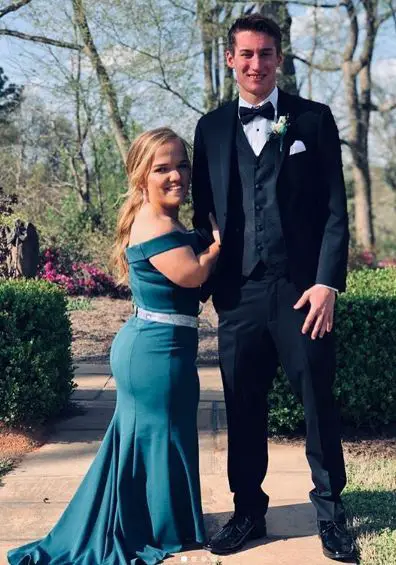 Elizabeth Johnston poses with her new boyfriend Brice Bolden on a prom date (Photo: Elizabeth Johnston's Instagram)
She later posted a picture that said, "It was great with this guy" which confirmed that the high-school fellows were enjoying each other's company.